The Shell Collector by Nancy Naigle: Heartwarming, poignant and a not-to-be-missed book from Nancy Naigle.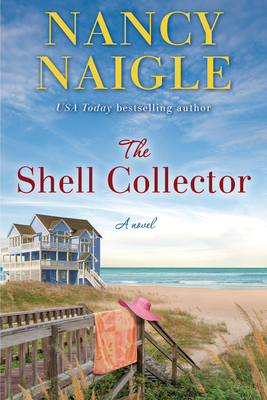 Maeve Lindsay could be considered the Matriarch of Whelk's Island. She has lived there all her life. After her husband passed away she even moved into the home on the beach she was raised in. Walking the beach and collecting shells gives her comfort. She loves her community and is active in everything concerning it, including counsel meetings. Her advice is respected and taken seriously. She has touched the lives and hearts of many on Whelk's Island but her wisdom has greatly changed Amanda Whittier's life.
Amanda Whittier moved to Whelk's Island a couple of years after her Marine husband, Jack's death. Her life now is centered around her two children, Hailey & Jesse. Their English Bulldog Denali is important too. Amanda needed to escape the constant sympathy she encountered around the other Marine families. She has purchased a bungalow on the beach and she and the kids enjoy spending time building sandcastles and playing on the beach. That's where Amanda meets Maeve Lindsay. After their first conversation Amanda and the kids feel an instant bond with Maeve. She makes a difference in their lives, especially Amanda's as Maeve's wise talks lead Amanda to want to live life fully again. Plus Maeve and the beach bring Paul Grant back into her life. Paul was Jack's best friend and Amanda's as well. After Jack's death she railed at Paul, shouting mean words and kicking him out of her family's life. Now he's, almost miraculously, here on Whelk's Island and she can apologize to him.
I have enjoyed many of author Nancy Naigle's stories, but I think this one is the most poignant one I have read. There is so much heartache in this story and yet so much joy as well. I cried my way through the ending. Both sad and happy tears. I really liked the characters in this story and all the interactions. I'm sure readers will experience this story with joy and sadness. Keep the tissues handy!
Book Info:

Publication: May 11th 2021 | Waterbrook Press |
"A beautiful story full of love, loss, and second chances."–#1 New York Times bestselling author Debbie Macomber
A touching novel of a friendship that crosses generations, and learning how even the smallest gifts can change a life for good, from USA Today bestselling author Nancy Naigle.
Two years after her husband's death, Amanda Whittier has two children to raise alone, an abandoned dream of starting a business, and a fixer-upper cottage by the sea. She has no room in her life for anything else and little interest in moving on after losing the man she loved.
Paul Grant is a relative newcomer to the area, and his work with former military dogs needing rehabilitation has been good for the town. Though he loved once before, he's convinced he's not suited for romance and is determined to find meaning–alone–through his work and role in the community.
Widowed Maeve Lindsay was born and raised on Whelk's Island. Spirited, kind, and a little mischievous, she pours her life into the town. But she carries a secret that shapes her every move.
Together, these three souls find encouragement in the most mysterious places and discover a love that's bigger than their pain, healing their wounded hearts in ways none of them could have hoped for or expected.