In The Single Undead Moms Club (Half-Moon Hollow #4) by Molly Harper, Libby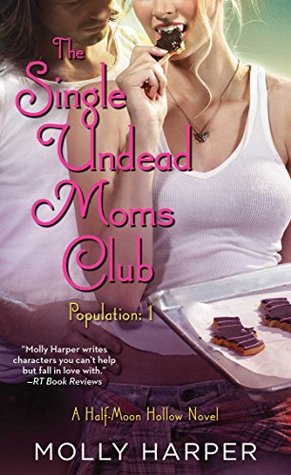 Stratton normally thinks every situation through, but dealing with her recent diagnosis of terminal cancer and worrying about what will happen to her son Danny, she makes a bold decision to become a vampire. Even before becoming a widow, Libby took full care of Danny, with some help from her in-laws who are obsessed with turning him into a copy of his father. She will do anything to remain a part of her son's life, even if it means she will be ostracized by Half-Moon Hollow residents.
'My Danny. Deep in my soul, beyond my consciousness and my heart, I knew with absolute, concrete certainty that I would never be able to hurt my son.'
Libby finds help with her transition from members of the local vampire Council and gains friends for the first time in forever. She also watches as sparks fly between herself and another single parent, sexy mechanic Wade, whose sons have befriended one another. But with her in-laws set on taking over custody of Danny, her mysterious sire reappearing, and fallout with the local PTA moms over her new undead status, Libby has her hands full trying to make her life fall into place once again.
"So that was your first time?" he asked.
"Having sex in a death barn? Yes."
"Drinkin' blood from a human," he said.
"Yes, you took my fang-ginity," I told him.
For me, reading a new Molly Harper story is like getting a huge gift from the literary Gods. I can always count on lots of chuckles (or outright guffawing), a crazy cast of characters who are too charming not to like, and a HEA that will leave me sighing happily. Libby's story hit those points and so many more.
'Dear Lord', I prayed, 'please grant me the grace to explain this situation to my mother-in-law without permanently damaging our relationship. And if that's not possible, please keep me from ripping her throat out, because that's the sort of thing that will go on my undead permanent record.'
This was actually a tad different in a way from other Half-Moon Hollow novels in that, here, Libby was facing a terminal illness and dealing with what that would mean for her precious son Danny. So things started off on a rather sad note but then quickly became a wonderful look into what it was like to get her life back. Even if it meant her in-laws and the PTA members were none too happy about the 'vampire' situation. Iris and Gigi Scanlon's story (The Care and Feeding of Stray Vampires) touched upon that new vampire guardian/human child relationship, but this was much more in depth. And I loved every moment of it.
Libby was a truly thoughtful woman and a wonderful mom. I absolutely adored her cutie pie son Danny, with his old soul. And boy did I laugh that he showed early signs of being a sarcastic force to be reckoned with. They were a terrific duo which was only made better with the appearance of Dick Cheney and Jane Jameson-Nightengale, from the original Nice Girls series. There were lots of funny and wacky moments with my two favorite characters while they assisted Libby during her transition. Between Danny's birthday party and the scenes where Jane sprays Libby with a squirt bottle, like you would use to condition a pet not to do something, I laughed until I had tears in my eyes!
The other element that added interest was a love triangle. Libby and local single (human) dad Wade had an undeniable physical connection, although they didn't always see eye-to-eye at first. And then there was her mysterious sire Finn who made his presence known. I'll admit that I rooted for Libby to choose Wade over Finn. He had that lovable redneck charm and teasing manner, was a great dad, hardworking mechanic (read: good with his hands), and he had tattoos and drove a motorcycle. What more could she ask for? But I get why Libby was enthralled with Finn, too. He was a tad shady, kind of like Dick Cheney, and was more cultured and worldly. I won't tell you who she ends up with, but the bumpy ride was definitely worth the lovely outcome for our heroine.
If you love paranormal romance filled with laughter, characters you want to befriend, and awkward situations that are totally relatable, The Single Undead Moms Club is just the book for you.
Book Info:

Publication: October 27th 2015 | by Pocket Books | Half-Moon Hollow #4
In the next book in Molly Harper's Half Moon Hollow paranormal romance series, Libby (a widow-turned-vampire) struggles with her transition, and finds out it sucks to be the only vampire member of the PTA…
Widow Libby Stratton arranged to be turned into a vampire after she was diagnosed with late-stage cancer. It wasn't the best idea she's ever had, but she was desperate—she's not about to leave her seven-year-old son to be raised by her rigid, overbearing in-laws.
On top of post-turning transition issues, like being ignored at PTA meetings and other mothers rejecting her son's invitations for sleepovers, Libby must deal with her father-in-law's attempts to declare her an unfit mother, her growing feelings for Wade—a tattooed redneck single dad she met while hiding in a closet at Back to School Night—and the return of her sire, who hasn't stopped thinking about brave, snarky Libby since he turned her.
With the help of her new vampire circle, Libby negotiates this unfamiliar quagmire of legal troubles, parental duties, relationships, and, as always in Harper's distinct, comedic novels, "characters you can't help but fall in love with" (RT Book Reviews).