In The Stepsisters by Susan Mallery, Growing up in the luxury of Bel Air, California, the one thing Daisy truly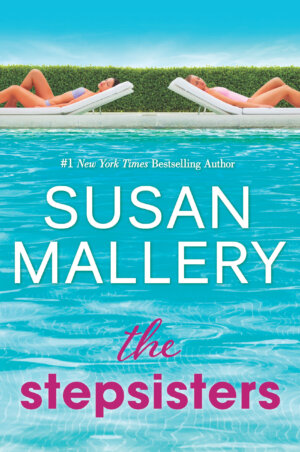 wanted was a sibling to hang out with. So when her father remarried and she gained a stepsister–Sage–Daisy was thrilled. Then Sage made it clear that she didn't want anything to do with her new sister and instead, she made Daisy's life a living hell. One of the original Mean Girls, Sage made it known that she was way prettier and had more friends than her stepsister did. And it only got worse as they got older. Then Daisy's father and Sage's mother had a child together: Cassidy. But as the marriage began to crumble and Daisy tried to protect her little half-sister, it became clear that she didn't want her help either. Something that didn't change as the years passed, unfortunately.
'How would their lives have been different if they'd figured out how to be friends?'
Now in her mid-thirties, Daisy just had a personal bombshell dropped on her when everything else seems to go sideways. Both of her kids are sick with the flu. Her car is on the fritz. And Sage somehow is the one to stop by the side of the road to offer a lift. Back from Italy and in Cali for the foreseeable future, Sage is just starting to realize the consequences after a lifetime of putting herself above everyone else. Being nice to her former stepsister is one step on the road to redemption. But who knew it would be so difficult to make amends? Especially when Sage is struggling personally to find a new path after her latest marriage disaster. So when her half-sister Cassidy shows up, needing help, she and Daisy pool their resources to get her back on her feet. Once all is said and done, could they actually forge a real relationship together?
'For the first time in possibly ever, she and her sisters were having a somewhat normal conversation without spiraling into accusations and loathing.'
An entirely accurate picture of how complicated the dynamics between sisters–and family in general–can be, The Stepsisters by Susan Mallery combined tender, raw emotions with a new sense of friendship and even redemption.
'Love was a tricky thing–hard to find and easily lost. But when it worked, it was the best. Her sisters had taught her that and it was a lesson she was never going to forget.'
Trigger warning: View Spoiler »Cheating, physical abuse. « Hide Spoiler
Book after book, I always adore the genuine way Susan Mallery portrays her characters. They get into awkward situations, make some bad decisions and mistakes–which they hopefully learn and grow from. And wow didn't they make some blunders in The Stepsisters. I think in this case, with Daisy and Sage (and Cassidy) readers will have strong reactions to each sister's part in the storyline. I certainly did. And while I grew to like each of the sisters over time, there were certain things they did that were difficult to accept. (Sage!!) Particularly the times when self-sabotage was the issue.
We had two POVs to follow: Daisy's and Sage's. In most ways the former stepsisters couldn't have been more different. And they definitely didn't start off as friends after the way Sage treated Daisy over the years. After getting more details about their upbringing, I could see *some* of why Sage was the way she was. Let's say her materialistic mom had a lot to do with the attitude she formed. I'm not condoning her poor treatment of Daisy–or of something she does toward the last third of the book–because as she hit her late teens and beyond, Sage should have learned to make her own choices in how she was with others. Something she didn't learn until it was almost too late to save her newfound friendship with Daisy.
Daisy was a very likable heroine. She had just been sideswiped by something big personally when Sage, and then Cassidy, came back into her life so she wasn't really in a great place emotionally to deal with them. But Daisy was a trouper. A busy mom with a demanding career, she found herself having to revisit her past with Sage and Cassidy and tried to let go of their hurtful past. It was quite a tough process for her–or really, for them all–but I did love the relationships that grew out of it. I should mention that we didn't get Cassidy's POV, but I think that was for the best because boy wasn't she selfish and bratty at first. Daisy and Sage both helped bring her around, though. And I think readers will enjoy her transformation.
Susan Mallery excels at writing fiction that explores love, friendship, and sisterhood. The Stepsisters took all three elements and wrapped them up in a tangled family drama that will pull at reader's heartstrings and leave them with a smile at the HFN ending.
QOTD: The Stepsisters focused more on personal relationships than romance (although there was some of that as well!). Do you enjoy stories where it's about a character's personal journey? Or are you all about the love story?
Book Info:

Publication: Published May 25, 2021 | MIRA |
#1 New York Times bestselling author Susan Mallery pens a love story of a different sort…a heartfelt tale of friendship between two women who used to be sisters.
Once upon a time, when her dad married Sage's mom, Daisy was thrilled to get a bright and shiny new sister. But Sage was beautiful and popular, everything Daisy was not, and she made sure Daisy knew it.
Sage didn't have Daisy's smarts—she had to go back a grade to enroll in the fancy rich-kid school. So she used her popularity as a weapon, putting Daisy down to elevate herself. After the divorce, the stepsisters' rivalry continued until the final, improbable straw: Daisy married Sage's first love, and Sage fled California.
Eighteen years, two kids and one troubled marriage later, Daisy never expects—or wants—to see Sage again. But when the little sister they have in common needs them both, they put aside their differences to care for Cassidy. As long-buried truths are revealed, no one is more surprised than they when friendship blossoms.
Their fragile truce is threatened by one careless act that could have devastating consequences. They could turn their backs on each other again…or they could learn to forgive once and for all and finally become true sisters of the heart.