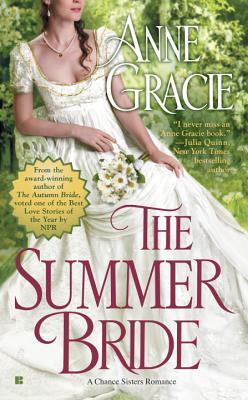 In The Summer Bride (Chance Sisters #4) by Anne Gracie, Daisy Chance has always dreamed of becoming a famous dressmaker to the ladies of the Ton but she never thought she'd truly have the means to do so. Thanks to hard work and the help of Lady Beatrice, it looks like she is going to have her business after all. So when her friend, Irishman Patrick Flynn, begins to court her, Daisy wishes she could accept his offer but she knows marriage would mean losing her business to him. And no man is going to take what she's rightfully earned ever again.
'If he kept going like this, she might have to stop seeing him altogether. It would half kill her, but she could see no solution to their problem. He wanted marriage and she didn't. End of story.'
Merchant Patrick Flynn enjoys his friendship with Daisy immensely and feels comfortable enough to explain his intentions of finding a lady of society to soon call his wife. He's wealthy and well-connected enough that it shouldn't be an issue. But Flynn realizes that what he really wants is a marriage based on affection. Not status. And Daisy would be perfect for him. Unfortunately, she claims she never wants to marry, even though he knows she feels strongly for him. Can Flynn prove to his Daisy-girl how right they are for each other?
'Why the hell was he looking for a highborn lady, when the woman of his heart was right there under his nose, giving him cheek and keeping him awake with lust half the night?'
What fun I had reading The Summer Bride! Between Flynn and Daisy's comical bantering, Lady Bea lovingly interfering in everyone's lives, and catching up with previous characters, I hated to put this book down for even a second.
"None of that lovey-dovey stuff–you know what I mean."
He grinned, a flash of white teeth. "What 'lovey-dovey stuff'–you'll have to be more specific. Give me an example, a demonstration perhaps." The big rat was enjoying this.
"You know exactly what I mean." She poked him in the chest. "Just behave yourself, all right."
While this can easily be read as a standalone, I think it would be more enjoyable if you've at least read the previous book, if not the whole series where this finishes out the quartet. And what a great way to end the running storyline about these four 'sisters'. I've fallen in love with the characters of course but I truly love the premise behind it all most. There is something wonderfully satisfying watching people form their own family out of a rag-tag bunch of supposed misfits or castoffs and seeing them succeed and find love. And that's basically what happened in each of these four books.
Daisy and Flynn were just so right for each other. I adored their shared scenes, watching their friendship turn into something much more and seeing their stubbornness shine through. Especially Daisy. She was talented, smart and quite loyal. But oh so stubborn. I got frustrated with her a few times for not seeing how much Flynn cared for her, but I knew she had a horrible childhood and had never known love before so it was an honest reaction. I loved seeing Daisy finally realize all that she was capable of and that she was worthy of people's time and care.
Flynn was simply a superb hero. He was kind of an offbeat character in a way, with his flamboyant way of dressing, his gold earring and the way he didn't care about what the Ton thought of him for the most part. He also had a tragic childhood so he and Daisy understood each other very well in that respect. I thought Flynn was a charming guy in general but it was the way he watched out for Daisy and Lady Bea that made me really cheer him on. And the way he courted Daisy? It was completely romantic and definitely showed off his style, while making his intent to marry her be known without a doubt.
I think Historical Romance fans will have a great time reading The Summer Bride. You can't go wrong with Anne Gracie's witty writing and with the strong, entertaining plot she created just for us.
Book Info:

Published July 5th 2016 | by Berkley | Chance Sisters #4
From the award-winning author of The Spring Bride comes the conclusion to the quartet about four sisters, four weddings, and a bride for every season…
Fiercely independent Daisy Chance has a dream and it doesn't involve marriage or babies (or being under any man's thumb). Raised in poverty, she has a passion and a talent for making beautiful clothes. Daisy aims to become the finest dressmaker in London.
Dashing Irishman Patrick Flynn is wealthy and ambitious, and has entered society to find an aristocratic bride. Instead, he finds himself growing increasingly attracted to the headstrong, clever and outspoken Daisy. She's wrong in every way, except the way she sets his heart racing.
However, when Flynn proposes marriage, Daisy refuses. She won't give up her hard-won independence. Besides, she doesn't want to join the fine ladies of society, she wants to dress them. She might, however, consider becoming Flynn's secret mistress. . .
But Flynn wants a wife, not a mistress, and when Flynn sets his heart on something, nothing can stand in his way. .