The Swedish Prince by Karina Halle is a romantic comedy that is the perfect blend of humor, sexy and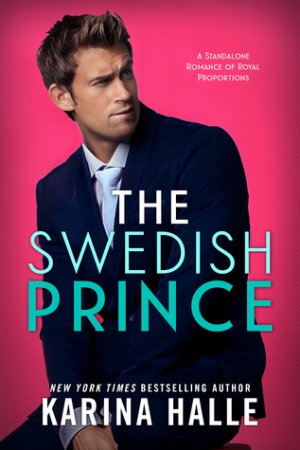 heart, and I loved everything about this endearing story of a prince who meets his queen.
Maggie accidentally walks in on Viktor naked in his hotel room, and he's a sight to behold. Let's just say he left a lasting impression. When she runs into him again (fully clothed) and he needs assistance, she feels compelled to him (and not because he looks awesome naked). There is just something about him that draws her to him, and their initial encounters feel like kismet.
Viktor is smitten by Maggie when he gets to know her and realizes there is something very special brewing between them, but he has to return to Sweden and his royal duties while Maggie's life is in California.
Swedish Prince is a highly entertaining, sizzling fairy-tale-worthy romance that with characters you will not soon forget. Viktor is the type of prince most little girls dream of, and he is the perfect match for the endearing, hard working Maggie. Her younger siblings are unforgettable characters that add both hilarity and poignancy to the story.
Karina Halle delivers another contemporary romance that belongs on everyone's keeper shelf.
Book Info:

Publication: 3/22/18 | Self-Published -Karina Halle |
I never believed in fairy-tales.
Never held out for Prince Charming.
Growing up poor in small-town California as the oldest of six siblings, I knew I would never ride off into the sunset with anyone. That was even more apparent when a senseless tragedy took the lives of my parents, forcing me to become the sole guardian of our dysfunctional household at the mere age of twenty-three.
Then a fateful encounter literally brought Prince Charming to my doorstep.
At first I thought Viktor was just your average businessman passing through, albeit obscenely handsome, six-foot-five, blue-eyed, and mysteriously rich.
But soon I discovered the truth behind Viktor's façade.
Beneath his quiet, enigmatic gaze and cocky charm, is a man who is running away from who he really is. A role he'd rather not fulfill.
He is Viktor of House Nordin, His Royal Highness, The Crown Prince of Sweden.
Yet uncovering Viktor's secret was only the first step.
I didn't expect to fall in love with him.
I didn't expect to have my whole life turned upside down.
When you're from two different worlds, can your hearts meet somewhere in the middle?
Or do happily-ever-afters only exist in fairy-tales?