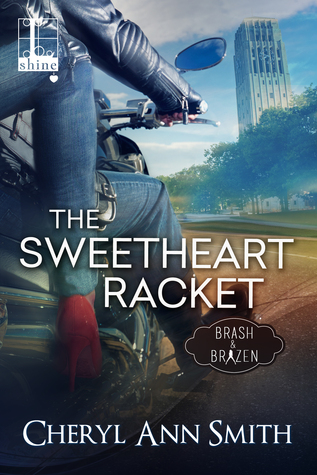 In The Sweetheart Racket (Brash & Brazen #1) by Cheryl Ann Smith, after the fallout between her and her sleaze-ball of a boss, Taryn Hall moved on to bigger and better things. Working as a PI is exciting, but her latest case searching for a con man could prove to be her toughest and most dangerous challenge yet. Can she find her target before she ends up dead?
"Look, Silva. I appreciate that you want to spend the day together in the search of justice, but I should warn you that I don't play well with others."
"How so?"
"I like to follow my own rules. I don't share my toys. And if I get angry, I've been known to bite."
A nice set of teeth flashed. "I like women who bite."
Rick Silva loves his mother and would do anything for her, so he's determined to find the man that conned her. However, not having much luck on his own, he hires Taryn; a determined PI that will do everything in her power to see justice served. Can they work together to find their target before things turn too dangerous?
From start to finish, this book combines the perfect amount of suspense and romance to provide a highly entertaining, suspenseful ride full of twists and turns that I did not see coming. Certainly, Taryn and Rick had their work cut out for them in finding their target, as the con-man had multiple alias and multiple victims that they needed to uncover, if they were ever going to ask people the right questions and locate him.
As for the dialogue, it was intense due to the main characters back stories and everything they go through to locate the man that conned Rick's mother and other women. Yet, there was also some really good playful banter between the main characters that had me laughing. Taryn excels at her job and doesn't find it easy to trust after all that she went through with her old boss and is still going through because of the horrible man. Luckily, Rick manages to make her feel comfortable around him. Moreover, I loved the moments with the college kids that Taryn has run ins with. Certainly, they know how to make her life interesting.
"Remind me why I do this for a living," Taryn grumbled, as they walked to the car. "I've heard hooking for cash has its rewards. You make your own hours and I think they offer dental if you get in with the union."
"There's a union?"
She shot him a quelling look. "Sometimes it's better to let a woman vent than to comment."
He grinned. "Is that in the Understanding Women Handbook, because I'd like a copy?"
Both the main characters were incredible, as were the secondary characters in Taryn's two best friends and her boss. Taryn and her friends have a strong bond with their boss; treating each other like family and I liked how much of a fighter the heroine was. She wasn't about to let her old boss — a lecherous man that was out to get her – rattle her. Honestly, the heroine had so many good qualities that it was hard not to like her. She's strong, brave and tenacious in the way she won't quit until she's solved any case that comes her way.
While Rick, he's been through a lot in his life and holds himself responsible for his mother's misfortune. He has a lot of guilt because he hasn't been there for his mother when she's needed him and finding the man that conned her is his way of making up for his absenteeism from his mother's life. Also, I liked how protective the hero was of the heroine, even though she could take care of herself. No way was he about to let her face the danger that they face alone.
Overall, this was a fantastic read with a strong romance that had me cheering for this couple's happy ever after. Taryn needs Rick just as much as he needs her. The way this story ended was perfect, as Rick finally found what he'd been looking for – Taryn and of course, the money and other things that the con-man had taken from unsuspecting and vulnerable women. I would recommend The Sweetheart Racket by Cheryl Ann Smith, if you enjoy romantic suspense with quite a few twists that will leave readers on the edge-of-their-seats.
Book Info:

 September 13th, 2016 | Lyrical Press | Brash & Brazen #1
They used to be on the sidelines. Now they're out in the field…
Two years ago, Taryn Hall was a pro football cheerleader-until she left her lecherous boss with a bloody nose and a faceful of Mace. Now she's part of a different kind of squad. An elderly billionaire named Irving has hired and trained Taryn and her two best friends to work as private investigators…
Taryn loves the job, though it sometimes involves boring stakeouts, dog bites-and listening to Irving talk about his golf shoes. Then tattooed, steely-eyed, straight-up gorgeous undercover DEA agent Rick Silva walks into the office and shakes thing up…
Rick needs help finding the con artist who's taken his lonely mother for all she was worth. With multiple aliases and multiple victims, it will be a challenge to track down the coldhearted gigolo. And Rick insists on accompanying Taryn on the hunt, working closely, day and night.
This could be dangerous. And the case might be kind of risky, too…