In The Things We Leave Unfinished by Rebecca Yarros, Newly divorced and moving across the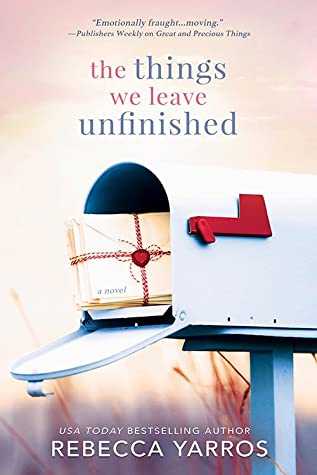 country from NYC to her childhood home in Poplar Grove, Colorado, Georgia Stanton is starting over. But unfortunately she's doing so without the love and support of her great-grandmother Scarlett, a world-famous romance author who recently passed away. When Georgia finds out that there's more to Scarlett's tragic love story that began in World War II, thanks to a stack of letters and an unfinished manuscript, she's shocked. But she's also awed by it all. That's why Georgia digs in her heels when her great-grandmother's publisher wants popular author Noah Harrison to finish writing the story. No way will he get his hands on the last remaining work by the woman who raised her.
'Finally. She felt as though she'd been waiting a lifetime for this man, this kiss, this moment, and it was finally here.'
Noah has been a die-hard fan of Scarlett Stanton's books for years and years. Even with his own success sky-rocketing, finishing her last remaining manuscript would be an amazing accomplishment. But Noah and Scarlett's great-granddaughter Georgia don't exactly get things started off on the right foot. Forget about their attraction. She's frustrating and always has to have the last word. Something Noah could normally work around. But as they slowly begin to forge a working relationship and realize just how large of an endeavor it will be to complete Scarlett's final book, Noah can't help but wonder if Georgia could be the one woman to change his mind about love. And he finds that he wants to not only do justice with the ending of her great-grandmother's story but also win Georgia's heart as well.
'He wasn't really a love-at-first-sight kind of guy, but he believed in attraction, chemistry, and even that little thing known as fate, and this felt like all three.'
The Things We Leave Unfinished was a perfectly written dual timeline that blended contemporary romance with historical fiction seamlessly. With its gasp-worthy twist at the end and two couples whose tumultuous love stories will bring you to tears, phenomenal is the closest word I can use to describe Rebecca Yarros's newest novel.
"The epic, rare love story in this room isn't Scarlett and Jameson. It's you and me."
This. Book. Talk about all the feels! It's going to be difficult to explain how utterly besotted I became with Georgia and Noah as well as Scarlett and Jameson as their stories unfolded. The best comparison I can think of is The Nightingale by Kristin Hannah. (One of my all time favorites) Equally as heart-rending and achingly beautiful, also with an alternating timeline between present day and during World War II, Yarros worked her magic and created this story around two couples with very different courtships. The circumstances might have been completely opposite but there was no denying the unending depth of love between Scarlett & Jameson and Georgia & Noah.
As I briefly mentioned, this novel was almost like a contemporary romance (Noah and Georgia) and a historical fiction/romance (Jameson and Scarlett) all in one. And of course it was all exceedingly well done with a depth of emotion I always look for in a book by Yarros. From the snippets of love letters written between Scarlett and Jameson at the beginning of the chapters to the extraordinary details included about life during WWII, this story just grabbed hold of my heart and didn't let go. The sheer magnitude of the sacrifices Scarlett, Jameson, and Scarlett's younger sister Constance made was incredible. And the devastating losses they all suffered will leave readers reeling.
Georgia and Noah's romance added some levity with their memorable meet-cute and how they tried to avoid their chemistry through bickering and a fun bit of antagonism. They made a wonderful pair–once they got out of their own way and gave in to their attraction. But it was complicated. I thought showing Noah and Georgia being flawed, making mistakes and having to own up to it made them relatable and truly endeared them to the reader. Their lovely relationship turned out exactly the way I was hoping. Although it was a rocky road to get there.
Keep your tissues handy and be ready to ugly cry when you pick up The Things We Leave Unfinished. It was a deeply touching timeless romance that was a reading experience like no other–and I can't thank Rebecca Yarros enough for sharing her indomitable characters with us.
Book Info:

Publication: February 21st 2021 | Entangled: Amara |
Twenty-eight-year-old Georgia Stanton has to start over after she gave up almost everything in a brutal divorce—the New York house, the friends, and her pride. Now back home at her late great-grandmother's estate in Colorado, she finds herself face-to-face with Noah Harrison, the bestselling author of a million books where the cover is always people nearly kissing. He's just as arrogant in person as in interviews, and she'll be damned if the good-looking writer of love stories thinks he's the one to finish her grandmother's final novel…even if the publisher swears he's the perfect fit.
Noah is at the pinnacle of his career. With book and movie deals galore, there isn't much the "golden boy" of modern fiction hasn't accomplished. But he can't walk away from what might be the best book of the century—the one his idol, Scarlett Stanton, left unfinished. Coming up with a fitting ending for the legendary author is one thing, but dealing with her beautiful, stubborn, cynical great-granddaughter, Georgia, is quite another.
But as they read Scarlett's words in both the manuscript and her box of letters, they start to realize why Scarlett never finished the book—it's based on her real-life romance with a World War II pilot, and the ending isn't a happy one. Georgia knows all too well that love never works out, and while the chemistry and connection between her and Noah is undeniable, she's as determined as ever to learn from her great-grandmother's mistakes—even if it means destroying Noah's career.
Told in alternating timelines, THE THINGS WE LEAVE UNFINISHED examines the risks we take for love, the scars too deep to heal, and the endings we can't bring ourselves to see coming.