Running Away with the Bride by Sophia Singh Sasson is the second story in her Nights at the Mahal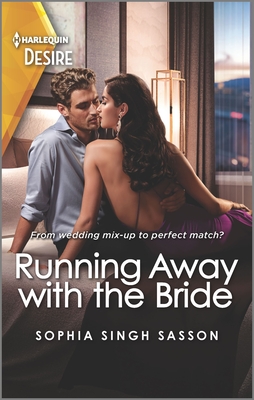 series and features an interrupted arranged wedding and a new love interest for the bride-to-be.
When Ethan Connors vows to stop his ex's wedding with hopes of reviving their relationship, he crashes the wrong wedding – and ends up spiriting away a different bride-to-be! Divya Singh looks at Ethan's interruption of her arranged marriage as a sign to take the escape while it's offered and goes into hiding with him while she sorts out her future. Once Ethan gets over the shock of crashing the wrong wedding (and with Divya's help, is able to find the real wedding he meant to interrupt and realize his ex is perfectly happy in her new relationship and isn't going to leave it for him), Ethan has nothing to lose but to help Divya. Along the way they develop feelings for each other. But will Divya's family ever accept Ethan as her partner?
I loved the details of the Indian wedding traditions even though the actual wedding at the start of the story isn't completed. And throughout the story, the author weaves in many aspects of Indian and Indian- American culture as Divya explains her situation to Ethan. Divya is very close to her family and she knows they mean well, but she doesn't want to marry the man her parents have picked out for her and just wants an opportunity to pursue a singing career, something she knows her family will have difficulty accepting, especially as her own mother gave up a promising career as a dancer to raise a family. With Ethan's money and connections, he helps her fulfill her dream of performing at a singing lounge in New York and gives Divya a lot to think about in terms of where her future lies.
While it is seems a bit fast for Ethan to fall for Divya when he'd obviously still had strong enough feelings for his ex to crash her wedding, I really enjoyed their banter and opposites attract relationship. Divya is a passionate and exciting woman and she and Ethan have an attraction that soon leads to some sexy scenes. When it comes time to face her family again, Divya coaches Ethan with the right things to say and do so that her parents and siblings will come to accept him. Ethan's feelings for Divya are strong enough that he respects her wishes and though there are some clashes between them, eventually they get their happy ending complete with parental approval. It's great to see some new cultural themes and story ideas in Harlequin stories from own voices authors and I look forward to reading more!

Book Info:

Publication: Jan 01, 2021 | Harlequin Desire | Nights at the Mahal #2
Stop the wedding! Steal the bride!
And fall for a perfect stranger? Billionaire Ethan Connors vows to stop his ex's wedding so they can be together. But crashing the wrong nuptials and spiriting away the wrong wife-to-be is more than he bargained for! Divya Singh is beautiful, talented, passionate…and from a traditional Indian family who won't accept him as a match for their daughter. Can Divya and Ethan's unexpected relationship stay the course or will one of them run again?