The Third to Die (Mobile Response Team #1) by Allison Brennan is an exquisitely plotted crime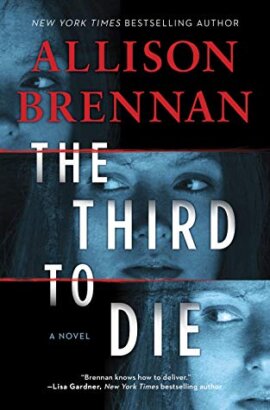 procedural jampacked with lots of action and suspense.
LAPD undercover detective Kara Quinn isn't in Liberty Lake, WA because she wants to be. Her boss insisted that she take a two week "vacation" after the death of one of her informants which impacted her greatly and her shooting a thug in self defense. She has been cleared for the legitimate shooting but a FBI enemy is interfering in LAPD's case and Kara's boss wants her out of the picture for a while. Kara lived in Liberty Lake with her grandmother for a few years in her youth so she is "vacationing" by visiting her. Eager to stay in shape she is alternating working out in the gym one day with running four miles around Liberty Lake the next day. While running one early morning she noticed a neon pink thing and goes to see what it is. What it turns out to be is a stethoscope on the dead body of a young woman. She calls 911 to report it. The manner of death gets the attention of the FBI since it is the MO of a serial killer, the Triple Killer. Kara has never investigated a murder case before but this one intrigues her. Maybe she can assist the FBI.
FBI Supervisory Agent in Charge of the newly forming FBI Mobile Response Team Matthias Costa has been busy vetting staff for his new team. He is only partway set up when the news of the murder in Liberty Lake and it's possible connection to the Triple Killer sends him and what staff he has to investigate. This is a really tough case. If this is the work of the Triple Killer Matt and his team have only 3 days to prevent the next death. Upon further research two prior incidents have been attributed to the Triple Killer. To Matt's surprise the witness who found the body is "vacationing" LAPD detective Kara Quinn. She provides help and insight into the case. Also to his surprise Matt finds he is attracted to Kara. Neither of them feel they are relationship people. Maybe a fling?
The Third To Die by Allison Brennan is the beginning salvo in this author's latest endeavor to thrill her readers. Allison Brennan always releases well-tought-out, excellently plotted suspense stories. Such is the case in The Third To Die. Her characters are fascinating people with interesting backgrounds. Much research is evident in her characters' actions and their interactions throughout the story. I am a big fan of Allison Brennan's stories and I found this new series intriguing, suspenseful and action packed. I will definitely be following along with future books as Matthias Costa's Mobile Response Team races to their next case.
Book Info:

Publication: February 4th 2020 | MIRA | Mobile Response Team #1
An edgy female police detective…An ambitious FBI special agent. Together they are at the heart of the ticking-clock investigation for a psychopathic serial killer. The bond they forge in this crucible sets the stage for high-stakes suspense.
Detective Kara Quinn, on leave from the LAPD, is on an early morning jog in her hometown of Liberty Lake when she comes upon the body of a young nurse. The manner of death shows a pattern of highly controlled rage. Meanwhile in DC, FBI special agent Mathias Costa is staffing his newly minted Mobile Response Team. Word reaches Matt that the Liberty Lake murder fits the profile of the compulsive Triple Killer. It will be the first case for the MRT. This time they have a chance to stop this zealous if elusive killer before he strikes again. But only if they can figure out who he is and where he is hiding before he disappears for another three years. The stakes are higher than ever before, because if they fail, one of their own will be next…