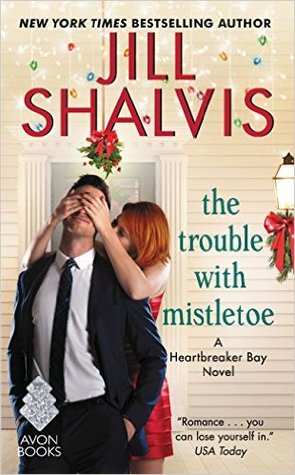 In The Trouble with Mistletoe (Heartbreaker Bay #2) by Jill Shalvis, Willa Davis puts everything she has emotionally, physically, and financially, into her pet store, the South Bark Mutt Shop on a daily basis. And she really does love the critters and humans she gets to meet. But she never expected a blast from her high school past to walk into her store carrying–of all things–a pink bedazzled cat carrier. Keane Winters is just as hunky as ever. Although Willa hates to admit it. Helping him out of a bind with his pet-sitting problems comes naturally to her, but letting herself trust him again? Well…that might take some time, some hot lingering kisses, and definitely some patience before she'll even think about it.
"Did anyone else see the kiss?"
Just then, Rory stuck her head out the back door of South Bark. "Okay, not that I'm judging or anything," she called out, "but are you going to stand around all day kissing hot guys who you pretend not to like, or are we going to get some work done?"
"I think it's safe to say someone else saw," Elle said dryly.
Keane was taken by surprise when his great-aunt Sally, a woman he barely knows, showed up asking him to take care of her cat Petunia. Somehow he gets rooked into watching the feline with a huge attitude but he has a business to run, too. His solution? Use the services of South Bark to watch the furball–er, feline for the day. One look at Willa, though, and Keane's mind is miles away from his pet-sitting duties. He's not sure what happened years ago but he's more than willing to make up for it if he gets a chance to know the petite knockout better. But what starts as a casual fling turns serious pretty damn quick. And Keane isn't sure if Willa is ready to hear it.
He planted his big palms on the wall on either side of her head and let out a low laugh like he was more than a little surprised at himself. "I'm saying I've changed my stance on relationships and commitment. I want in your damn life, Willa."
So. Much. Fun. The Trouble with Mistletoe was a fantastic holiday romance that hit all of the bells and whistles I look for in a Jill Shalvis novel. It had humor, heart, loving but meddling friends, just enough drama to keep things interesting, and–thanks to Willa's pet shop–lots of cute & quirky animals.
"You're so beautiful, Willa."
"Mew!"
"Quiet," they both said at the same time, holding each other's laughing gaze.
"I thought it was kids that were supposed to act like birth control," he said.
Petunia actually sighed and stalked off, legs stiff, tail twitching.
Okay, so pretty much anything Jill Shalvis writes is a guaranteed good time. But there was something magical and sweet about how Keane and Willa fell for each other. They of course had an undeniable attraction that created entertaining sexy bantering and smoking hot love scenes. But it was the way they understood each other, having both grown up without a lot of love and support in their lives, that really sealed the deal for me. It always makes a couple that much more realistic to have them connect on a basic level like that. And that's what had me cheering on Willa and Keane to finally give in to their feelings.
Willa was a complex woman, both strong and tender at the same time. She had a really tough childhood and came out of it somehow without being completely bitter. I loved her compassion. Willa had a huge heart and would do absolutely anything for someone who needed help. That was Keane's saving grace, considering their rocky past back in high school. I wanted to be mad at him for not remembering her but when the truth came out, I had to begrudgingly let him off the hook. Keane had some baggage from his own childhood and it made him a bit of a commitment-phobe which complicated things with Willa. But he was an honorable, caring, hot-as-hell guy who had a lot more to give emotionally than he thought he did. Loved that.
Shalvis writes very likable characters and in this case it wasn't just our protagonists but their friends and coworkers as well who made a big impression. And the pesky critters, actually. Just like in book one in the Heartbreaker Bay series, the tribe of friends that all hung out around together were comical and kept Willa from giving up on what they knew could be the real thing with Keane. And even Keane's coworkers rooted him on, giving him the push that he needed here and there to give it a try with Willa. The comedic thread with all of the pets just had me in stitches, whether it was the feline from hell that Keane was pet-sitting and the bedazzled pink cat carrier he had to tote around, or the doggie wedding complete with over a hundred guests, or even the bond between an aging pit bull and a teacup pig. It all had me giggling and laughing until I had tears in my eyes.
The Trouble with Mistletoe can be read at any time of the year, with the holiday theme being more in the background and the romance taking center stage. This book showcased everything I love about Jill Shalvis's writing and has me sitting on the edge of my seat just waiting for the next in the series to be released.
Book Info:

 Expected publication: September 27th 2016 | by Avon | Heartbreaker Bay #2
If she has her way…
Willa Davis is wrangling puppies when Keane Winters stalks into her pet shop with frustration in his chocolate-brown eyes and a pink bedazzled cat carrier in his hand. He needs a kitty sitter, stat. But the last thing Willa needs is to rescue a guy who doesn't even remember her…
He'll get nothing but coal in his stocking.
Saddled with his great-aunt's Feline from Hell, Keane is desperate to leave her in someone else's capable hands. But in spite of the fact that he's sure he's never seen the drop-dead-gorgeous pet shop owner before, she seems to be mad at him…
Unless he tempers "naughty" with a special kind of nice…
Willa can't deny that Keane's changed since high school: he's less arrogant, for one thing—but can she trust him not to break her heart again? It's time to throw a coin in the fountain, make a Christmas wish—and let the mistletoe do its work…