The Upside to Being Single by Emma Hart:Mellie is smart, loyal, generous, and feisty. She's an amazing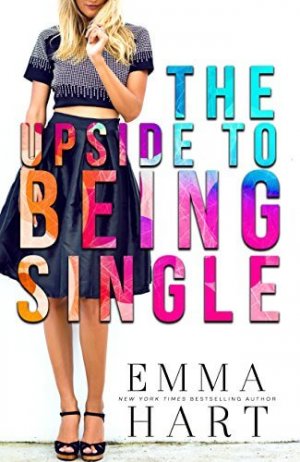 cook and oh so klutzy. She loves managing a hotel in New Orleans, but sometimes the customers drive her just a little bit crazy. She'll do anything for donuts and her two best friends, even if they dare her to flash someone at Mardi Gras for beads.
Jake just arrived in New Orleans and everything about the city is a surprise to him. He's looking forward to taking over and making some changes to the hotel. He's sexy, charming, and quite persuasive.
Mellie cannot believe her luck; the one time she flashes someone, it just so happens to be the tall, dark, sexy guy who turns out to be her new boss. She never thought she would see the stranger who made her heart race ever again, but it turns out he enjoys making her blush and her heart race on an almost daily basis.
"Let's try the introduction thing again." He took a step forward. "Jacob Creed. New owner and, as they tell me, the person in charge."
I hesitated only a second before putting my hand into his much larger one. "Mellie Rogers. Manager and apparent hot mess."
Quite understandably, Mellie is embarrassed between the flashing and all her other moments of klutziness around Jake. He enjoys pushing her buttons and getting a rise out of her. Both enjoy the banter as she grudgingly shares her office with him. He's a constant presence she can't shake, just like the undeniable attraction that only seems to grow.
"Now, spitfire," Jake started, his eyes finally landing on me. "I know you're Calamity Jane and capable of falling over thin air, but how the hell did you manage this?"
"Will you shut up and help me up? My ass hurts!"
The Upside of Being Single is oh so funny. Emma Hart developed an entertaining slow burn office romance with plenty of heat and humor. Ms. Hart created a tight-knit and slightly crazy set of best friends who will be fun to follow in the planned set of connected standalone books. If anything, I would have loved more in the epilogue than setting up the premise for the next book. Fans of Lauren Layne and Jessica Lemmon will enjoy The Upside of Being Single.
Book Info:

Publication: January 30th 2018 | Emma Hart |
If anyone asks, I knew better than to flash my boobs for Mardi Gras beads.
I still don't know why I did it.
Maybe it was the dare from my two best friends.
Maybe it was the guys on the balcony saying they'd throw Fireball shots with the beads.
Or maybe it was the quiet guy in the corner of that same balcony with piercing gray eyes, wavy dark hair, and a smile so tempting I wanted to climb up there and lick it off his face.
Maybe it was because I never thought I'd see them again.
Not that it matters. Not today.
Because the hotel I manage was finally bought—and the guy who walks in and introduces himself as my new boss is Mr. Tall, Dark, and Silent.
There are many upsides to being single.
Your new boss knowing what your boobs look like?
Not one of them.
(THE UPSIDE TO BEING SINGLE is a standalone, romantic comedy from the author who brought you MISS FIX-IT and BEING BROOKE.)