In The Vanished Days (Scottish #3) by Susanna Kearsley, In 1707, when Mrs. Lily (Aitcheson)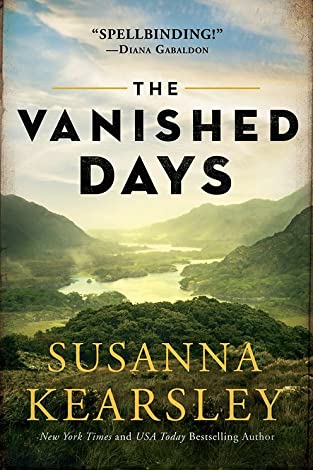 Graeme comes forward and files to claim her deceased husband's lost wages from the Darien expedition, it raises eyebrows. Given the ongoing war and with so many laying false claims to fight their way out of their impoverished situations, some are investigated by local Scotsman of good stature. Such is the case with Lily's claim. And that is where Adam Williamson gets drawn in to sort through the details to find the truth: whether Lily was truly married to James Graeme.
'I can promise I've invented not a word of any part of this tale that belongs to her–that everything is as she told it, or as it was called to memory by those who were there and lived it with her.'
For Adam to ascertain the validity of Lily's claim, he must first learn of her past. Something that is sad, harrowing at times, and full of loss the likes of which would cripple a weaker woman. As he unravels the years, starting in the 1680s, Adam speaks with those from Lily's past who are still living. And he learns what it has cost her to step forward on behalf of James. The truth is startling. There is much that can be lost depending upon Adam's decision: whether to back the claim or to deem it false. But either way, his life slowly becomes tangled with Lily's, ensuring that it will create huge ripple effects for them both.
'Sometimes life gave you back the things you'd lost.'
An in-depth look into several intertwining lives during the uprising in Scotland in the late 1600s to very early 1700s, The Vanished Days was a tale–part factual, part fiction–filled with deceit, tragedy, hints of promise, and a love that weathered all it encountered.
"Clocks don't wind backwards."
"No… Still, it's a shame that we cannot reclaim those vanished days, and try to live them better."
"Who's to say we would not live them worse?"
While I love history and have a deep appreciation for authors who include it carefully and accurately into their works of fiction, such as Susanna Kearsley, there was just SO much historical data here. I would find myself losing the thread of where the characters were in the scene and what was actually taking place. Maybe I wasn't in the right headspace for this novel at the time I read it. But the details seemed a bit much to sort through while keeping up with the book's narrative–which was also rather tricky. Because as a reader, I wasn't sure if I could trust our narrator Adam's views to be truthful or even complete.
That being said, by the second half of the novel, I was quite invested in Lily, Adam, Gilroy, and the rest of the cast's lives. Kearsley cleverly worded several sections of this tale so that it not only kept us guessing what all of these characters' connections were, but it also made the twist at the end that much more surprising. Set in alternating timelines, beginning around 1680 and moving incrementally from there to "present day" for Adam and Lily, which was 1707, it was a tumultuous, sometimes bleak, time period. However it did make for an interesting backdrop for this complicated saga of fractured families, wars waged, and loves lost then found.
Note: The Vanished Days is a prequel to The Winter Sea and is also tied to The Firebird but all can be read as standalones.
QOTD: This was written as a narrative (in the first person) with Adam telling us the events as he saw them, along with "help" from other characters sharing their memories with him to add. Are you a fan of novels told from a first person point of view?
Book Info:

Publication: Published October 5th 2021 | Sourcebooks Landmark | Scottish #3
From international bestselling author Susanna Kearsley comes a historical tale of intrigue and revolution in Scotland, where the exile of King James brought plots, machinations, suspicion and untold bravery to light. An investigation of a young widow's secrets by a man who's far from objective, leads to a multi-layered tale of adventure, endurance, romance…and the courage to hope.
In the autumn of 1707, old enemies from the Highlands to the Borders are finding common ground as they join to protest the new Union with England. At the same time, the French are preparing to launch an invasion to bring the young exiled Jacobite king back to Scotland to reclaim his throne, and in Edinburgh the streets are filled with discontent and danger.
Queen Anne's commissioners, seeking to calm the situation, have begun paying out money sent up from London to settle the losses and wages owed to those Scots who took part in the disastrous Darien expedition eight years earlier—an ill-fated venture that left Scotland all but bankrupt.
When the young widow of a Darien sailor comes forward to collect her husband's wages, her claim is challenged. One of the men assigned to investigate has only days to decide if she's honest, or if his own feelings are blinding him to the truth.
The Vanished Days is a prequel and companion novel to The Winter Sea, with action that overlaps some of the action in that book. The Vanished Days goes back in time to the 1680s and introduces the reader to the Moray and Graeme families.