Holly Jolly Cowboy by Jessica Clare is the seventh book in the author's Wyoming Cowboys series.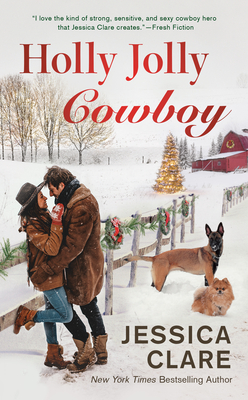 Holly Dawson always cringed when Adam Calhoun, Mr. $1 Tipper, walked into Wade's Saloon where she worked as a waitress. That Adam is just such a jerk! He's a mighty fine-lookin' guy. Holly can't figure out what his problem is. The first time he came in he tipped generously. When he returned later that day is when the miserly $1 tips began. Now she has accepted a job cooking and baking at the Price Ranch and guess who works there. Yep. Mr. cheapskate tipper! Holly is sure she will be able to deal with him at the ranch – until it is just her and Adam alone left to tend to everything at the ranch at Christmastime.
Adam Dawson is ex-Navy and not-so-long-ago divorced from his wife who cheated on him while he was deployed. He was lucky his friend Jason Clements offered him a job on his ranch. So now he and his dog, a Belgian Malinois named Hannibal are family. Sure he finds the pretty waitress at Wade's Saloon attractive. He can't help but be attracted to her but she sure showed him her true colors. The first time he met her when she was his waitress at Wade's they flirted with each other. Then that evening he returned to Wade's and saw how she flirted with other guys. She is such a fake! She just flirted for tips. Negative. Not going there.
This is a fun Christmas romance. I really enjoyed reading along as Holly and Adam moved on from how they felt about each other in chapter one to their Happily Ever After. This is a super enemies to lovers romance story. I love author Jessica Clare's writing style and have really enjoyed this series, The Wyoming Cowboys. Holly Jolly Cowboy is a great addition to this series.
Book Info:

Publication: October 26th 2021 | Berkley Books | The Wyoming Cowboy #7
From New York Times bestselling author Jessica Clare comes a Christmas romance about a cowboy grinch and the woman who stole his heart.
Local waitress Holly Dawson needs a better paying job to cover her sister's college tuition. Given that it's Christmas and she's broke as a joke, she's feeling pretty bah-humbug. New jobs are hard to come by in a town as small as Painted Barrel, especially as the town dropout.
When Holly's offered a job at the Flat C Ranch to clean and cook for the cowboys that work there, it seems like a dream come true…except for one thing. Her nemesis, the incredibly handsome (and annoyingly arrogant) Adam Calhoun works there. It doesn't matter that he loves dogs more than people, or that he's a war veteran. No Christmas spirit can save that particular grinch.
When the rest of the ranch hands go out of town for the holidays, Holly and Adam will be forced to work closely together. No sweat. Holly can deal with Adam. And if she doesn't kill him first, she just might fall in love.