In The Way You Look Tonight (The Sullivans #9) by Bella Andre, Rafe Sullivan has become jaded when it comes to love, thanks to his solid career as a private investigator. Years of proving just how many spouses cheat on their loved ones has made him, justifiably, a bit cynical. At least he has some examples of lasting love to reflect on with his parents in Seattle and his cousins in California, to whom he remains close. Rafe's realtor sister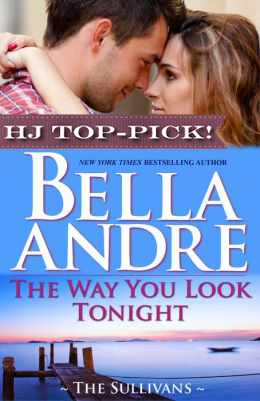 Mia informs him of an opportunity to get back the lake house they grew up visiting outside the Seattle area when it goes on the market. He has to agree that a change of scenery would do wonders for his life at this point so he decides to buy it and take a much needed vacation.
"Jesus Christ, when had Brooke turned into Marilyn Monroe? Twenty years ago she'd been a cute kid. But now? Hell, now she was every single one of his dirtiest fantasies come to life."
Never in his wildest dreams did Rafe expect to see Brooke Jansen still staying next door in her grandparent's house, when he arrives at the lake. She was a few years younger than him and had been a sweet, innocent girl who loved to play in the lake and who was best friend's with his sister Mia. Brooke is just as sweet and caring as he remembered, but he can see she filled out in all the right places thanks to the bikini she's wearing when they meet again for the first time in twenty years. Rafe ends up staying with Brooke while he cleans up the horrible mess inside his house. When they can't ignore their obvious attraction, she offers him a chance to have a summer fling with no strings attached, saying she wants to be wild for once in her life. Rafe knows he should convince her to remain strictly friends so he doesn't tarnish her almost childlike innocence, but he can't help himself. He's never had such an intense reaction to any woman before. He only hopes he can keep a level head and not hurt her, or he will never forgive himself.
"When she was eight years old, the crush she'd had on Rafe was sweet. Innocent. But what she was feeling now was decidedly not sweet. Nor was it anywhere close to innocent. Wild. The thought–no, it was more desire and pure need than it was a cognizant thought–came at her in an instant: I want to be wild with Rafe Sullivan."
Brooke Jansen loves living in the lakeside house her grandparents left to her after their unfortunate car accident. She gave up her job in Boston working in HR to start her own business making handmade chocolate truffles that she sells locally. Although she misses them terribly, she feels connected to her grandparents, remembering the wonderful summers she spent here with them. She also remembers the "Seattle Sullivans" that stayed next door during her childhood. Especially Rafe Sullivan whom she had a huge childhood crush on for years. While she's in the lake cooling off, remembering those fun days, a ruggedly handsome man roars up next door on a motorcycle. Brooke is shocked to see it's Rafe and can't help but to throw herself into his arms in a big embrace. She offers him a place to stay after they take a look inside the house next door and see what a disaster it is. She knows she won't be able to even think straight with him so near so she decides to be brazen and suggests they have a wild summer together as friends-with-benefits. Only, Brooke didn't realize that she would be in way over her head and fall completely in love with Rafe.
Bella Andre's first book about the Seattle Sullivans is a great way to start off! It was a quick but enjoyable read full of emotion, laughs and HOT love scenes. Um, laying in chocolate ganache on a granite work surface, hello… Rafe is my favorite kind of bad boy: he has a tough, rugged persona with an intense job and sleek motorcyle, but he cares deeply for his family and protects his loved ones at all costs. And it was easy (at least for me) to relate to Brooke wanting to break free of her good girl lifestyle, to be wild and reckless for the summer. Given her attraction to Rafe and the fact that she felt comfortable with him as she had known him almost all her life, he was the obvious choice. They were definitely a perfect combination. Now I can't wait to read Mia's story next in book ten!
Book Info

Publication date: 6/18/2013 Series: The Sullivans , #9
As a very successful private investigator who has caught most of the cheaters in Seattle with their pants down, Rafe Sullivan believes true, lasting love only happens once in a blue moon. Needing to get away from the city to clear his head, he finds the lake house where he spent the best summers of his life is now a wreck…but the sweet girl next door is all grown up and prettier than anything he's ever seen.
While Brooke Jansen is happy making and selling chocolate truffles in her small Pacific Northwest lake town, she secretly longs to experience something wild. So when her favorite "Wild Sullivan" moves in again next door after more than a decade away, and sparks fly between them, she can't stop wondering if being bad is really as good as it always seemed…and just how long it will be before she can find out.
But when their summer fling quickly spirals into deeper emotions than either of them were expecting, can they survive the heat between them? Or will Rafe make the biggest mistake of his life and end up losing the best thing that's ever happened to him?
Author's Note: While THE WAY YOU LOOK TONIGHT can easily be read as a stand-alone story, you'll likely enjoy reading the earlier Sullivan books, too.
Book 1: THE LOOK OF LOVE (Chase)
Book 2: FROM THIS MOMENT ON (Marcus)
Book 3: CAN'T HELP FALLING IN LOVE (Gabe)
Book 4: I ONLY HAVE EYES FOR YOU (Sophie)
Book 5: IF YOU WERE MINE (Zach)
Book 6: LET ME BE THE ONE (Ryan)
Book 7: COME A LITTLE BIT CLOSER (Smith)
Book 8: ALWAYS ON MY MIND (Lori)
Watch for Mary & Jack Sullivan's book, KISSING UNDER THE MISTLETOE, coming September 24, 2013!