The Wedding Game by Meghan Quinn: The last place hard hearted divorce lawyer Alec Baxter ever thought that he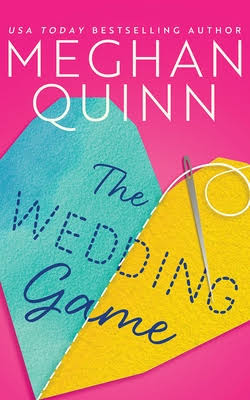 would find himself would be on a reality TV show about creating the perfect crafters wedding, but when his younger brother Thad all but guilts him into competing to help create his perfect wedding all while rebuilding their strained relationship Alec doesn't have much of a choice. However things don't get of to the best start when Alec mistakes another contestant for a coffee gofer which only strikes up an instant hate relationship with pro-crafter Luna Rossi.
"Stay out of my way, Baxter."
"Are you declaring war?"
"It's been war ever since you demanded coffee."
There is only one thing that Luna loves more than a good craft project and that is her brother, so when she see that The Wedding Game is looking for new contestants for their DIY wedding show Luna sees the opportunity to help her brother get the dream wedding that he has always wanted, the one problem Cohen is not one for flaunting his relationship. However with a bit of convincing Luna, Cohan and Declan are ready to take on The Wedding Games and crush the competition, the only problem being Luna definitely did not expect to develop a crush on her arrogant opponent Alec Baxter! Soon The Wedding Games becomes a game of new love but will these two former foes be able to over come the odds and get their own happily ever after?
"And your charm is entirely too much for me to handle. I hated you a week ago, and look at me now, standing half-in, half-out of your apartment, practically eating your face off. You charmed me . I don't know how you did it, but you did "
I loved The Wedding Game, as with all her books Meghan Quinn knows just what to do to have her reader hooked and wanting more, this was the type of book that you could see the entire novel play out in your mind as of it were a movie. One of the things that I love most about Quinn's books is that all her character have such amazing realness to them and that she is such an inclusive writer. I loved that Luna's brother was gay but not the stereotypical version of this over the top flamboyant gay, in fact it was Alec's brother Thad who was more the flamboyant groom.
"And it is amazing. Our tongues dance and collide as we reach for more and more, as if all our pent-up tension and arguments over the past few weeks have been nothing more than intense foreplay— foreplay we didn't even know was happening until just now."
Luna and Alec definitely have a slow burn romance but once they finally get over their insta hate they were absolutely perfect. I loved that Luna was willing to help Alec with baking the wedding cake to help repair his relationship with Thad even though they were competition, this just showed that she was a genuinely nice person. It was from this one act that we get to see Alec soften and watch him learn to open himself to love and being loved. This was not a very angsty read but I did have it's moments of what is going to happen. One of the biggest themes in the book was family and boy did both Luna and Alec have their share of family drama, however I like the way things got resolved on both ends.
"I like it," I say quietly.
"I like flipping over the cover and seeing what's inside."
The Wedding Games was the perfect laugh out loud enemies to lovers romcom that had me rooting for both teams to win the ultimate prize, love. This is definitely one I would recommend reading as with all her books Ms. Quinn has delivered a brilliant read.

Book Info:

Publication: March 1st 2021 | Montlake |
Luna Rossi is a veritable crafting genius—she can bedazzle and bead so hard her Etsy site is one of the hottest in the world. So it's only natural that Luna would convince her brother and his husband-to-be to compete on The Wedding Game, a "do-it-yourself" TV show, for the title of Top DIY Wedding Expert.
As a jaded divorce lawyer, Alec Baxter scoffs at weddings and romance. But when his recently engaged brother begs him to participate in The Wedding Game, Alec grudgingly picks up a glue gun and prepares for some family bonding.
Both fierce competitors, Luna and Alec clash on national TV as harsh words and glitter fly with abandon. But as they bicker over color swatches and mood boards, they find themselves fighting something else: their growing mutual attraction. While Luna is torn between family loyalty and her own feelings, Alec wonders if he might have been wrong about love and marriage all along…