The Wedding Ringer by Kerry Rea: One moment Willa Callister was living her best blogger life, planning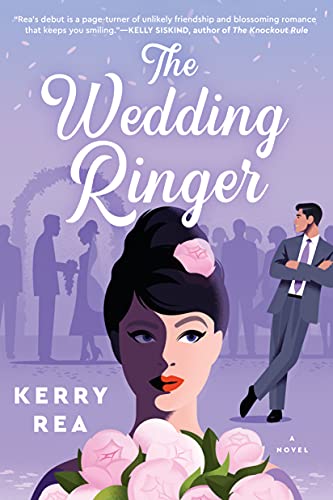 her dream wedding to the sweetest guy she had ever meet and had the most reliable best friend a girl could ask for, that is until it all blew up when Willa found her fiancé and best friend in bed together! Now if she gets out of bed before noon its considered a win, after having her heart broken you could say she kind of spiralled, didn't go to work for nine days straight which got her fired and completely stopped her blog, going so far as to delete all her socials.
Now the once up and coming social blogger is living with her sister and working as Princess Sparkleheart, a glorified children's entertainer well that was until Willa's past pops into her present unexpectedly causing her to ruin the kids party. Feeling completely down and out the last thing Willa expected was to have a complete stranger beg her to play the role of her bestie and bridesmaid, but after bombing the Princess Sparkleheart gig and mounting student debt looming Willa has little to no choice but to help Maisie. What was supposed to easy money playing the role of bridesmaid soon turns into Willa finding that heart broken heart still has space for friendship and love.
The Wedding Ringer is going to be a book that stays with me for a good long while, there was just something so special about this novel that really warmed my heart and called to a part of my soul. I found that not only was the plot unique but the writing style just drew you in. I think one of the things that made this book such a great read was that anyone can relate to Willa, we have all lost a close friend and have had a broken heart, this made reading her story all the more genuine.
"What are you doing here, Sparkles?"
"First of all, do not call me Sparkles. Second of all, what other reason could I possibly have for being here besides the same one you are?"
Willa was such a great girl, I loved getting to follow her on her journey of finding herself again and realising that the past does not define her. I loved how real and relatable she was, be it her lazy late starts to the day or her messiness, but getting to see Willa grow and develop was just something else. I loved that her connection and bond with her sister and nieces grew stronger the further the book progressed. Also I have to mention that I really enjoyed getting to see her write again and this time not shy away from all the ugliness that is real life.
As for our hot doctor Liam, gosh I just loved the chemistry that he had with Willa and that they got of to the worst start. It was hate at first sight for these two but boy did they have chemistry for days!! I absolutely loved the twist in fate that brought them back together and that ultimately they couldn't fight their attention. On his own Liam was a great guy and the more we got to know him the more likeable he became.
My review can not be complete without talking about Maisie, this girl was everything! I loved her weird and wacky first meeting with Willa and that she was so incredibly cute! I mean how can you not love her when she works as a habitat designer for the zoo. I loved the fast friendship that these two formed and that they helped each other find their way.
The Wedding Ringer was an absolute treat to read, I loved that this book not only had a cute enemies to lovers romance with a quirky new friendship but it was largely about a woman finding herself. This is a definite must read!
Book Info:

Publication: November 9th 2021 | Berkley Books |
Once upon a time, Willa Callister was a successful blogger with a good credit score, actual hobbies, and legs that she shaved more than once a month. But after finding her fiancé in bed with her best friend, she now spends her days performing at children's birthday parties in a ball gown that makes her look like a walking bottle of Pepto Bismol. Willa dreams of starting fresh, where no one knows who she used to be, but first she needs to save up enough money to make it happen.
Maisie Mitchell needs something too: another bridesmaid for her wedding. After a chance encounter at a coffee shop, Maisie offers to pay Willa to be in her bridal party. Willa wants nothing to do with weddings–or Maisie–but the money will give her the freedom to start the new life she so badly desires.
Willa's bridesmaid duties thrust her into Maisie's high-energy world and into the path of hotshot doctor Liam Rafferty. But as Willa and Maisie form a real friendship, and Liam's annoyingly irresistible smile makes her reconsider her mantra that all men are trash, Willa's exit strategy becomes way more complicated. And when a secret from Maisie's past threatens to derail the wedding, Willa must consider whether friendship–and romance–are worth sticking around for.