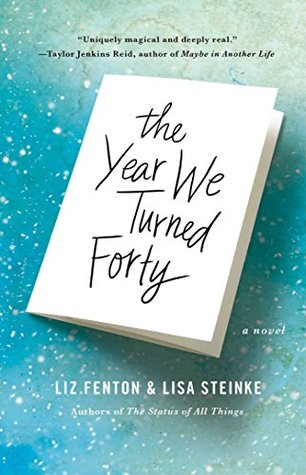 In The Year We Turned Forty by Liz Fenton & Lisa Steinke, Best friends since college, Jessie, Claire and Gabriela have made a pact to have a blow-out get together every year for their birthday. This year as they turn fifty, the ladies decide on a trip to Vegas so they can celebrate in style before getting back to their chaotic lives. But what awaits them there is the opportunity for each of them to go back ten years in time and relive the pivotal year they turn forty.
"I know you're not looking forward to reliving the bad things, but you can change how it all turns out this time, we all can. We're getting a do-over!"
Single mom Claire realizes she would be able to not only handle her unruly daughter Emily differently but she would also get to spend precious time with her mother who she heartbreakingly lost shortly afterwards. What she doesn't realize is that after finding new companionable love in her late forties, being face to face with the one man she never quite got over will make Claire question her every decision.
'She thought about how little control they'd had since returning. Jessie had assumed that she'd take back the reins of her life by making different choices. But all it had done was create new and different problems.'
Jessie will always regret the one night stand she had that was the ruination of her marriage. She would never give up her son Lucas who was a product of her indiscretion, but being given a second chance to keep her husband Grant in her life, a man she never stopped loving, would be a blessing. She might not be able to go back far enough to stop the affair, but Jessie can weigh her options on how to proceed with a much more accurate point of view.
"I think the one thing I've learned this year is that if you keep waiting around to discover what makes you happy, then you probably never will be."
Gabriela and her husband Colin have been on different sides of the baby argument for years. Now a best-selling author with a booming career, she suddenly realizes that she does indeed want a child. Unfortunately, Colin has come to terms with not becoming a father and is resistant to change his mind. Gabriela will do anything in her power now that she can go back in time to create the family she dreams of. But at what cost to her marriage and her career?
Watching the events unfold in The Year We Turned Forty was nothing short of fascinating. Writing duo Liz Fenton and Lisa Steinke were able to perfectly capture and detail the emotions of our three protagonists in such a vivid way that I felt every single bit of their triumphs and losses right along with them.
"Life wasn't meant to be played like a game of chess, moving the people you love like pawns to win the game.'
Overall, there were two big things that kept me glued to the pages: the incredible longstanding friendship between Jessie, Claire and Gabriela, and the butterfly effect their decisions created when they went back ten years in time to rewrite their past. First about the friendship. I love stories based around strong women and the bond they have with friends, coworkers and loved ones. The strength these ladies were able to draw from one another was uplifting, seeing them support each other through whatever crisis occurred. That bond was tested time and again, and I don't think it gives too much away about the story to say that it remains intact, if not a bit altered, by the end. (Yay!)
The butterfly effect is something that I've always thought was a cool concept, albeit rather difficult to wrap my mind around at times. I can't give away too many details or I'll spoil the best parts of the book, but each of the women had to deal with and ultimately accept that no matter how small the action or decision, it could lead to huge consequences down the line. It was so interesting to see the way things changed unexpectedly for them. I empathized with them all–although Jessie's infidelity gave me pause–but Claire's struggle with her mother's health echoed my own past, so I could wholeheartedly understand her longing to go back and do a few things differently if it meant more time with her beloved mom. And I will admit that I bawled like a baby a few times during her journey. *sob*
I think the one character that surprised me most over their choices was Gabriela. She became almost a completely different person and while I had a hard time with her, becoming frustrated with her choices, I do know her reaction was realistic. Jessie was the one I felt went into the past with her eyes focused, knowing what she wanted to accomplish so I didn't take issue with her decisions so much. I will say that in the end I think things worked out as they probably should have. Some of it was surprising in a way, but as a reader I was completely satisfied.
Ultimately, The Year We Turned Forty was a book that was not only fun and a terrific example of the power of friendship, but it made me think about being more conscious in enjoying the life I have and in the choices I make. Not many books can make me take a serious look at my life while still remaining so entertaining. Nicely done, Ladies!
Book Info:

Published April 26th 2016 | by Washington Square Press |
If you could repeat one year of your life, what would you do differently? This heartwarming and hilarious novel from the authors of The Status of All Things and Your Perfect Life features three best friends who get the chance to return to the year they turned forty—the year that altered all of their lives, in ways big and small—and also get the opportunity to change their future.
Jessie loves her son Lucas more than anything, but it tears her up inside that he was conceived in an affair that ended her marriage to a man she still loves, a man who just told her he's getting remarried. This time around, she's determined to bury the secret of Lucas' paternity, and to repair the fissures that sent her wandering the first time.
Gabriela regrets that she wasted her most fertile years in hot pursuit of a publishing career. Yes, she's one of the biggest authors in the world, but maybe what she really wanted to create was a family. With a chance to do it again, she's focused on convincing her husband, Colin, to give her the baby she desires.
Claire is the only one who has made peace with her past: her twenty-two year old daughter, Emily, is finally on track after the turmoil of adolescence, and she's recently gotten engaged, with the two carat diamond on her finger to prove it. But if she's being honest, Claire still fantasizes about her own missed opportunities: a chance to bond with her mother before it was too late, and the possibility of preventing her daughter from years of anguish. Plus, there's the man who got away—the man who may have been her one true love.
But it doesn't take long for all three women to learn that re-living a life and making different decisions only leads to new problems and consequences—and that the mistakes they made may, in fact, have been the best choices of all…