Their New Year's Beginning by Michelle Major is the first book in the Harlequin continuity series The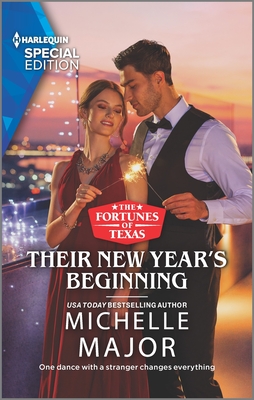 Fortunes of Texas: The Wedding Gift. This is a super beginning.
Emmaline Lewis has her life pretty much set. She inherited her grandfather's antique shop which she has always loved. She is six months pregnant and ready to be a great single mom and give her baby the best life she can. When she meets Brian Fortune at the big multi-Fortune weddings event on New Year's Eve she is surprised that she is so attracted to him. Their kiss at midnight was so special. But Brian is only in Rambling Rose for a short time. Nothing can come of it.
Brian Fortune is a brand marketing manager for a top ad agency in New York. He is very good at his job and he really enjoys doing it, especially since he works remotely. This has enabled him to spend time in Rambling Rose, Texas for all the weddings and the birth of his twin brother Brady's and Brady's new wife Harper's baby. During the New Year's Eve wedding celebration he met Emmaline Lewis. He was really attracted to her. He plans to return to New York after Brady and Harper's baby is born so he knows nothing can come of this attraction to Emmaline. Brian keeps his heart locked up tight after his ex-girlfriend Tammy broke it.
I loved the storyline and the characters. Ms. Major made Emmaline and Brian come alive for me and I felt like I was right there with them as they got to know each other and fall in love. I greatly admired Emmaline's independence and big heart. Brian's past hindered him in opening up his feeling and his heart but he fell in love with Emmaline and there's no fighting that. I am really looking forward to the next book in this series which is A Soldier's Dare by Jo McNally.
Book Info:

Publication: December 28th 2021 | Harlequin Special Edition | The Fortunes of Texas: The Wedding Gift Book 1
One dance with a stranger changes everything in USA TODAY bestselling author Michelle Major's contribution to The Fortunes of Texas: The Wedding Gift continuity!
At the stroke of midnight,
A stranger's kiss changes everything…
Brian Fortune doesn't think he will ever find the woman he kissed at his brother's New Year's wedding. So when the search for the provenance of a mysterious gift leads him into a local antique store a few days later, he's stunned to find Emmaline Lewis, proprietor—and mystery kisser! Surprise turns to shock when he realizes that she's also six months pregnant. Brian has never been the type to commit—and he's really not ready to become a family man in one fell swoop! But suddenly he knows he'll do anything to stay at Emmaline's side—for good…
From Harlequin Special Edition: Believe in love. Overcome obstacles. Find happiness.
The Fortunes of Texas: The Wedding Gift
Book 1: Their New Year's Beginning by Michelle Major
Book 2: A Soldier's Dare by Jo McNally
Book 3: Anyone But a Fortune by Judy Duarte