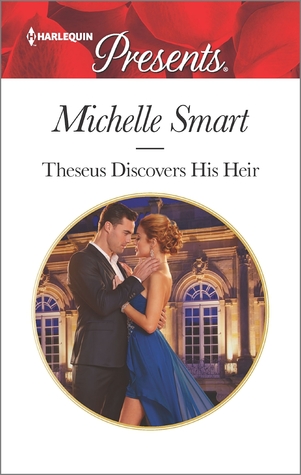 Theseus Discovers His Heir by Michelle Smart is the second part of the Kalliakis Crown series. Five years ago,Prince Theseus traveled the world in disguise as an engineer and met Joanne. Their fling had consequences and now finally five years later, Joanne discovers the true identity of her child's father.
Theseus is determined to reclaim his secret son and Joanne. But will Joanne forgive him for his deception?
Theseus Discovers His Heir by Michelle Smart was yet another stunning well written romance from an author who does not fail to keep you hooked till the very end.
Theseus is a very sexy prince who just gets better and better with each passing page. Joanne is a strong, independent heroine who is such an awesome mother. She held her own in front of Theseus and it was difficult to not like her attitude. The romance is enjoyable because the characters share an awesome rapport and it is pure delight when they come together.
Theseus Discovers His Heir by Michelle Smart is a must read for everyone who loves the secret baby trope!

Book Info:

 Published: December 15th 2015 | Harlequin Presents | (Kalliakis Crown #2)
THE PRINCE'S SECRET LOVE CHILD!
Shocking news has rocked the Mediterranean Principality of Agon. Prince Theseus—second in line to the throne—is rumored to have fathered a secret love child.
Reports surfaced the moment stunning royal biographer Joanne Brooks was hired to memorialize King Astraeus's reign. It seems she's brought more than pens and paper!
Witnesses suggest that five years ago, our onetime bad boy prince traveled the world in disguise as engineer Theo Petakis and met Joanne. This reporter wants to know how Ms. Brooks will react when our commanding prince wants to claim his child and his bride!