In Thinking of You by Jill Mansell, Ginny Holland is not sure what to do with herself now that her daughter Jem is leaving home for the first time. She is extremely proud of her choice to go to university but immediately feels the loss once Jem is gone. She sets out to distract herself from her empty-nest feelings and goes shopping. Ginny doesn't realize how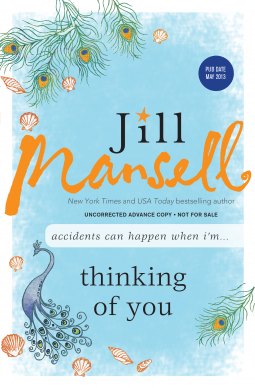 truly distracted she is until she is accused of shoplifting by a devastatingly handsome man, who is shopping in the same store. Everything gets sorted out eventually but she is still mortified by what happened.
Next on her agenda is to advertise for a roommate who is roughly her age – late thirties – or so, admittedly mostly for a bit of social interaction. The search is overwhelming and tiring but she finally meets Perry Kennedy, and after a bit of a misunderstanding, takes his sister Laurel in as her tenant. She finds Perry wickedly attractive and charming. They hit it off well and eventually go on a few dates, much to her best friend Carla and Ginny's ex-husband Gavin's dismay. They both worry about Ginny getting hurt as he has a reputation for being a bit of a charmer.
"Ginny, contrastingly, was warm and impulsive, disorganized and accident-prone. Clothes-wise, she was less than cutting edge. She was, as Perry had pointed out, beautiful and funny in a dizzy-blond kind of way, but she was also overwhelmingly maternal, cuddly and nurturing and with a capacity for forgiveness that Carla knew she could never hope to achieve."
Ginny finds a job opening at a local restaurant in need of a waitress and thinks she will have no problems getting hired. That is until she realizes the owner is Finn Penhaligon, the man who had accused her of shoplifting. He finally concedes to give her a chance and is happy he did so. She is great with the customers and is a hard worker. Plus she's easy on the eyes…which he would never admit to her. They have a complicated friendship due to his trust issues in women and her awkwardness over how they first met. They find each other attractive but don't know if it would be a good idea to blur the lines of the boss/worker relationship.
"His dark eyes locked with hers for a moment, his expression unreadable. Then he held out his other hand and slowly beckoned her forward. His voice low and with a husky edge to it, he murmured, "Come here.""
I must admit I was a little on the fence about this one at first. It had a rocky start, but I am very glad I stuck it out and continued forward. The story reads a bit like a soap opera (set in the UK) but definitely has Jill Mansell's trademark charm and wit throughout. I came to enjoy Ginny's naivety and free spirit. She's the kind of character who is spectacularly flawed but is loveable at the same time. She faces betrayals and unexpected personal situations with humor and strength. I think we could all benefit from having a friend like Ginny!
Book Info
Publisher: Sourcebooks Landmark Release date: May 7, 2013
Are you in the midst of one of those "exciting" phases of life, like the eerily quiet empty nest…or the new job with the distractingly attractive, off-limits boss…or a wacky new roommate who isn't at all as advertised? What about all of those at once…
Is your life full of surprises? No? Well, what if it could be?
You may begin to think you're living someone else's reality. And maybe, that's not a bad thing…
International bestselling author Jill Mansell spins a poignant and funny story of mothers, daughters, friends, and lovers…and what happens when everything takes a turn for the unexpected.