If you are looking for a story that has everything a great HEA should have, then look no further than Surrender to Sultry by Macy Beckett. This is the third book in the Sultry Springs series, and this book is even better than the last two, which is hard to believe because I thought the last 2 were awesome.. Let's review.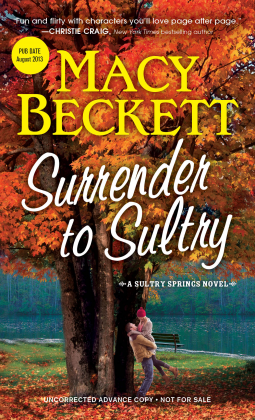 Leah McMahon is a home care nurse who has come back to her home town of Sultry Springs, Texas to care for her dad after he has had heart surgery. 10 years before she ran from her home town, family and friends to get as far away from the only man that she has ever loved, the man she still loved, Colton Bea.
Colton, "Crazy Colton" as the town calls him, was a wild youth, the devil in cowboy boot, and crazy in love with Leah. He never saw himself as good enough for his "beautiful Angel" (Leah), so he did the unspeakable and broke her heart. Colt has spent the last 10 years searching and hoping for another chance with Leah, and now that she is back home, he is going to do everything in his power to make sure she stays this time. But Leah has a secret that she has been keeping from Colton and the rest of the town for the last 10 years, if she tells him, will he be able to forgive her or will she lose his love forever.
I really connected with this couple. Colton tries so hard to show Leah that he has changed, not with words, but with his actions. For example, because they had broken up, and Leah had left town, they never got to attend the Senior Prom. Colton sets up a "prom" for Leah at his home, including decorations, a photo station, dinner, dancing, flowers, and he retrieves her prom dress from the Goodwill where she donated it, had it cleaned, pressed and ready for her. I literally cried, it was just so touching. They were wonderful as individuals, but even better together. I was cheering by the end of this book.
Their friends and family are hysterical. They add some great humor and some great entertainment to the story. This book is touching, sad, exciting, funny, and really romantic, Everything a sigh-worthy HEA is made of. I would recommend this book, this series and this author to all of my friends.
Book Info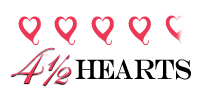 Publisher: Sourcebooks Casablanca Release date: August 6, 2013 | Series: Sultry Springs
Leah McMahon is back in Sultry Springs, Texas to help her dad recover from surgery. But there's a new sheriff in town and he's none other than Colton Bea, the wild-as-weeds boy who stole her heart a decade earlier. Colt's a changed man now, and the feelings between these high school sweethearts are stronger than ever. But Leah's got a secret so devastating that he may never forgive her. Can she find a way to earn absolution and build a future with the sultry man she's loved half her life?