This Strange Witchery is Michele Hauf's last story for the Harlequin Nocturne line. While it's not listed as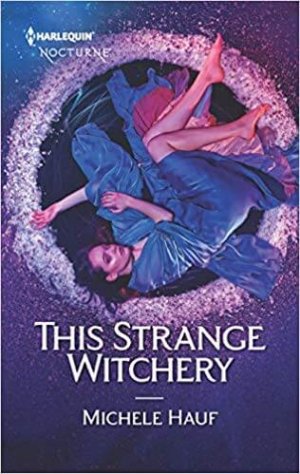 being part of a series, it is part of her Beautiful Creatures world.
Those who have read other stories based in this world are familiar with Thoroughly and CJ Jones, twins who are powerful dark witches. Thoroughly's cat shifter wife has died and come back to live the last of her nine lives. In order to do that, a spell needs to be conducted to rid the spirit who is responsible for her latest death. Thoroughly's daughter, Melissande, has decided to perform dark magic in order to do so. The problem is she doesn't have experience with dark magic, and after stealing Hecate's heart from her uncle CJ, she needs help. Dangerous creatures are drawn to the heart and she needs to keep it safe until she can perform the spell. She turns to Torsten Rindle, a human who protects paranormals and keeps their existence secret from other humans.
Torsten is done. After cleaning up his last paranormal mess, he wants out. All he wants is to be a normal person. He doesn't want to see the dead anymore, he doesn't want to have to clean up after the paranormals and spin stories to hide their true nature from the public. He just wants to work a normal office job and he's on his way to doing it. Until Melissande hops in his car with a trail of undead beings following her. As much as he wants to, he can't deny she needs help.
I liked Melissande. Even though it was clear she wasn't cut out to be a dark witch, she was willing to try to save her mother. She often rambles but I found her to be entertaining, and it was fun to watch Torsten try to keep up with her.
As for Torsten, I found him to be slightly annoying at times, with how much he kept repeating he only wanted to be normal. After all he had seen and done, it was obvious he would never be able to be completely "normal". I did like how patient he was with Melissande, and how he was willing to stand up to Thoroughly and CJ even though he was frightened of them.
I enjoyed watching their romance blossom. It wasn't rushed, and they really took the time to build it up. I found Torsten's serious nature a good balance to Melissande's fun and sometimes flighty behavior.
While there are other books set in the Beautiful Creatures world, it's not necessary to read them prior to reading this one. It works well as a standalone. That being said, I would recommend reading Thoroughly's and CJ's books in order to understand how powerful they are and why Torsten's so wary of them but even if you don't, you'll be fine reading this.
If you enjoy paranormal stories and haven't tried a story by Michele Hauf, you definitely should. I've read several of her books and I've enjoyed them. Her characters are always well-written and she has created an interesting world of witches, shifters, and other paranormal creatures.
Book Info:

Publication: December 1, 2018 | Harlequin Nocturne | Beautiful Creatures
The last thing he wanted was to fall for a witch. All Torsten Rindle wants is to be normal. As soon as he completes his last job, he's done with the supernatural. Then Melissande Jones sashays into his life, and Tor finds that he can't resist this sultry sorceress. He might be able to protect her from vampires and zombies, but can he leave the paranormal world behind after Mel has bewitched him?