Three Nights before Christmas (Montana Born Christmas) by Kat Latham: I really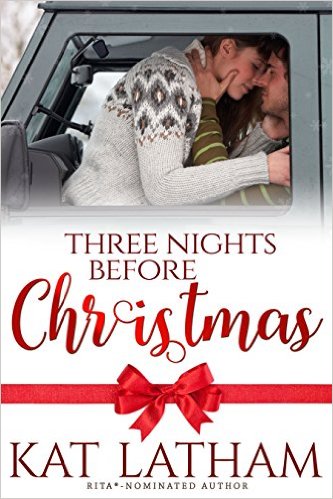 enjoyed this Christmas romance about unexpected love and second chances.
The main characters are unique and do not have a positive past experience. I liked how Kat brought them together…nothing was instantaneous, it was a slow growth of a relationship that neither expected to go anywhere! There are no secrets between Lacey and Austin. What starts off as distrust, unease soon morphs into something much more positive when Austin needs Lacey's help to restore the old steam train. The unanticipated attraction they have for each other can't be ignored for long, but can it go anywhere? The past is a shadow between them, but will the light and magic of Christmas blind out the shadows?
I loved getting into this story. The pace was fast and felt just right. I really liked both of these characters, the strength and growth they experience in Three Nights Before Christmas. They are believable people and I felt for both of them. I hoped they could find their happy ending.
I loved the setting for this book, and the Christmas theme was very well done! It felt so magical and I could picture everything through Kat's vivid writing and attention to detail. I especially enjoyed the steam train and the concept behind it! While it was good to catch up with characters from previous Montana Born books, Three Nights Before Christmas can easily be read as a stand alone.
If you are looking for Christmas miracles and a book that will make you feel really happy and good, I'd highly recommend Three Nights Before Christmas!!
Book Info:

October 25th 2015 by Tule Publishing
Have yourself a steamy little Christmas…
After three years in prison, freight train engineer Lacey Gallagher doesn't expect this Christmas to be very merry and bright. At least chopping down trees for her brother's Christmas tree farm will help her save money to get her life back on track. All her plans derail, though, when her new job puts her in territory patrolled by the man who haunts her dreams—the forest ranger who sent her to prison.
Austin Wilder isn't thrilled about Lacey working in his forest—but he soon realizes he needs her help. His family is depending on him to restore an old steam train for a spectacular Christmas event, and train expert Lacey is his only hope of finishing in time.
Working together challenges every assumption Lacey and Austin have about each other, and they discover a desire hot enough to melt even the deepest Montana snow. But will the season of second chances be enough to mend the most hardened broken heart?