Three Sisters by Heather Morris: Bound together by more than just a childhood promise to protect each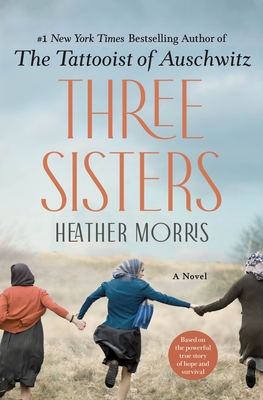 other forever, teenagers Livia, Cibi and Magda are ripped from their home in Slovakia by the Nazis and survive to tell their story. The third novel in the world renowned Tattooist of Auschwitz series, this vivid tale of horror, love and hope sits as a stark reminder that humanity's capacity for brutality is something we must never forget . Whilst the setting and subsequent inhumanity of the Holocaust is never a comforting or pleasant experience to walk through (and nor should it be!)
Three Sisters speaks the deep language of love and hope, wherein our three heroes overcome the worst possible odds and experiences ever imagined, imprisoned in Auschwitz, alongside the gas chambers not knowing if each day will be their last. The then 15 year old Livi and 19 year old Cibi cling to each other as lifelines, fortunate enough to have journeyed to hell together, using each other as tethers to survival, spurning each other on to not give up and give in in the face of starvation, hypothermia, disease, violence and torture. Simply no words can describe the sheer magnitude of resilience and strength inherent in our sisters and whilst Magda ends up in the same prison camp as her sisters 2 years later, she later learns that guilt is all-consuming and a form of torture in and of itself.
Based on the lived experience of our three sisters, the powerful moments of joy are described with the narrative voice of three teenagers who believe that holding onto their childhood family pledge was what enabled them to survive, and to find the courage to rebuild their lives in Israel. And whilst there was an innocence and naivety in some of the language choices that sat in vivid contrast to the violence and cruelty that they endured, this added a layer of warmth and endearment that held until the end.
In our contemporary Pandemic paradigm wherein mental illness is at an all time high and resilience and an all time low, Three Sisters is an incredible reminder that by believing in the love we have for each other, we indeed have the capacity to survive horror and navigate our way back to the light.
Book Info:

Publication: 5th October 2021 | St Martin's Press | Tattooist of Auschwitz #3
When they are girls, Cibi, Magda and Livia make a promise to their father – that they will stay together, no matter what.
Years later, at just 15 years old, Livia is ordered to Auschwitz by the Nazis. Cibi, only 19 herself, remembers their promise and follows Livia, determined to protect her sister, or die with her.
In their hometown in Slovakia, 17-year-old Magda hides, desperate to evade the barbaric Nazi forces. But it is not long before she is captured and condemned to Auschwitz.
In the horror of the death camp, these three beautiful sisters are reunited. Though traumatised by their experiences, they are together.
They make another promise: that they will live. Their fight for survival takes them from the hell of Auschwitz, to a death march across war-torn Europe and eventually home to Slovakia, now under iron Communist rule. Determined to begin again, they embark on a voyage of renewal, to the new Jewish homeland, Israel.
Rich in vivid detail, and beautifully told, Three Sisters will break your heart, but leave you amazed and uplifted by the courage and fierce love of three sisters, whose promise to each other kept them alive. Two of the sisters are in Israel today, surrounded by family and friends. They have chosen Heather Morris to reimagine their story in her astonishing new novel, Three Sisters.