Christmas at Colts Creek by Delores Fossen is the second book in her Last Ride, Texas series.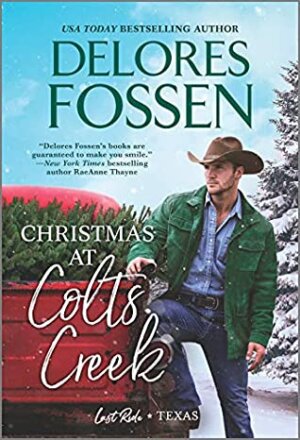 Janessa Parkman got a letter from Abe Parkman, the father she only knew for one summer when she was a teenager. The letter asked for help with making things right. Unfortunately she'd been away on business and only received the letter on the morning of her estranged father's funeral in Last Ride, Texas. Janessa hadn't planned to attend the funeral but the letter changed her mind. After the funeral came the reading of her father's will. He left his ranch and all his businesses worth millions to Janessa with stipulations.
Janessa, who is very busy running Bright Hope House, a place for troubled teens in Dallas, had to stay in Last Ridge for three months or everything went to charity. Also her mother, Abe Parkman's ex-wife, had to stay in Last Ridge for those three months too. Janessa didn't see that happening as her mother hated Abe and wouldn't even attend his funeral but Janessa wanted to meet the stipulations. So many people depended on the ranch, especially Brody Harrell who had managed the ranch for years. Abe had looked on Brody as the son he never had as far as Janessa knew. No one can figure out why Abe didn't leave the ranch to Brody. Yes, Brody Harrell, the guy Janessa fell in love with the summer she spent at the ranch. The one who broke her heart. The one she was still very attracted to.
Brody Harrell spent years managing Abe Parkman's ranch. He thought they had a great relationship and that Abe cared for him. Brody was just about the only one in the area who didn't suffer Abe's surly, mean attention. But Janessa is Abe's flesh and blood so Brody can't complain too much about Abe's decision to leave her everything. The three month stipulation, if Janessa and her mother could meet it, would be hard. Having Janessa around would test his will power for sure. When Brody saw Janessa he was ready to start right back up where they left off all those years ago when Janessa left.
This is an emotional, fight-the-pull second chance romance. There are so many complications in the lives of the main characters, Janessa and Brody, that getting this couple their Happily Ever After took a long and windy path. I enjoyed this journey and was quite pleased with how things turned out for all the characters. I also liked the touch of mystery and suspense incorporated into the storyline. This is a feel good, heartwarming story of love, family and happy endings for all.
Book Info:

Publication: October 26th 2021 | HQN Books | Last Ride, Texas #2
An unexpected inheritance rekindles a red-hot romance just in time for Christmas…
Janessa Parkman spent one long-ago summer in Last Ride, Texas, trying to bond with her estranged father, Abe. Turns out that was plenty of time to fall hard—and crash badly—for Brody Harrell, who managed Abe's ranch. Everyone believed Brody would inherit Colts Creek one day, but now, fifteen years on, Abe's will reveals the shocking truth—Janessa gets everything, and she must agree to stay in town for three months…through Christmas.
Brody's attraction to Janessa burns hotter than ever. Though he refuses Janessa's offer to give him the ranch, refusing her is impossible. Misunderstanding drove them apart once before, and secrets and betrayals run through both families. But what starts as a temporary Christmas fling might turn into a love strong enough to last every holiday season yet to come.
Last Ride, Texas
Book 1: Spring at Saddle Run
Book 2: Christmas at Colts Creek