In Through the Lens by K. M. Jackson, Mika Walters has been working as Alejandro Vega's personal assistant for the past three years and has learned much from him. But she is in love with him and she is nothing like the women he dates and it's time for her to go out on her own. She only needs to get this last big job done and a few more weeks before she leaves for her new job.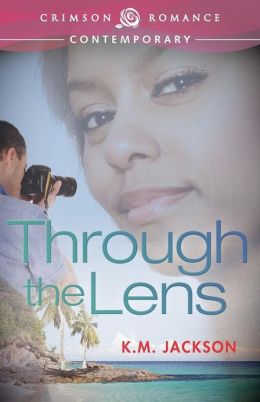 Alejandro Vega depends on Mika on every job. She knows what he needs even before he asks for it, but a mishap in travel arrangements has left him alone with her on a remote island for two days before the rest of the crew arrives.
Now as they spend time alone and together, Alejandro starts seeing the beautiful woman Mika is, and can't help but feel the attraction and chemistry that he must deny. He cannot ruin his relationship with Mika and drive her away from him, he needs her more as his assistant than as his lover.
But time alone makes them see what they have been dismissing for so long, and with Mika leaving, she believes that this is her only chance at being with Ale at least once or regret it for the rest of her life. Ale is not willing to act on his attraction in the beginning, but when Mika makes her interest known he acts on what he cannot deny is between them.
The secret that Mika has been hiding from Ale about her new job may just tear apart what could possibly grow to be true love. For now Ale will not forgive as easily or let her go either. But what he cannot understand is why he cannot forget about her and go on to the next quest once the models arrive.
Ale and Mika will have to learn that in order for love to grow they will have to learn to trust and sacrifice a little for the happiness of their loved one.
For a fun, hot and sweet romance I recommend you read Through the Lens by K.M. Jackson.
Book Info
Mika Walters is a normal-sized woman working in the not-so-normal world of New York fashion. As longtime assistant to uber-sexy photographer Alejandro Vega, she's tired of being the girl in the background.
Just once she wants Alejandro to look at her with the same smoldering look he gives to his willowy models and now she has her chance.
Stranded.
After a travel mishap where the rest of the crew and the models can't make the remote island location shoot for another three days, Mika is taking her moment to catch Alejandro's eye and put herself in front of his camera and if all goes to plan, his bed . . . at least until the real world catches up with them.
Alejandro doesn't know what's gotten into Mika. Maybe it's the sand, maybe it's the sun, but he doesn't really care. All he knows is that he's finally opened his eyes and is seeing her clearly for the first time as the smart, gorgeous, and incredibly irresistible woman she is.
But why can't she realize that what he's feeling for her is not one of his usual one, well, three night stands. This is real. Real love, real passion.
What's it going to take for him to prove to Mika that she's the woman he wants? Now and forever.
Sensuality Level: Sensual