To Catch a Thief by Nan Dixon is part of the Fitzgerald House series. It can be read as a standalone. I have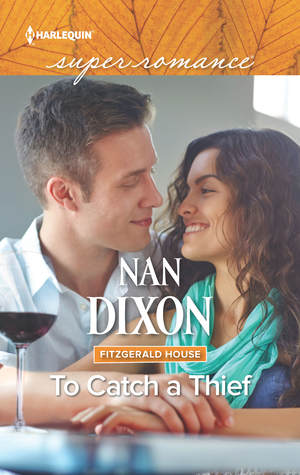 only read one other book in this series, and had no issues following along with the characters and the storyline.
Carolina Castillo's mother is dying. She gives up her dreams of becoming a singer to return home, where she has no choice but to take a job at the Fitzgerald House. The place where her half-sisters lived and worked. Half-sisters that don't even know she exists. She meets FBI agent Sage Carnell, who believes things are either right or their wrong. When her mother asks her to do something he would consider wrong, will their budding relationship survive?
I felt bad for Carolina. Not only was her mother dying, but she's making demands for Carolina to steal stuff from the Fitzgerald House. One of the items had belonged to Carolina's grandfather, and she can't understand how it ended up at the Fitzgerald House to begin with. But she struggles with what to do. She can't outright ask the Fitzgerald's for it because she'd then have to explain who she was to them and how it rightfully belonged to her mother. She also doesn't feel like she can outright take it, either. Her mother puts her in a difficult position, which I didn't feel was fair. And every time Carolina would try to tell her she couldn't steal, her mother threw a fit and made her feel bad. She was in a no-win situation.
I thought Sage was a bit too stuck on his belief that things were either right or wrong. When Carolina tries to explain to him why she did the things she did, he refused to hear her out. He wouldn't let her explain, instead deciding she wasn't a good person. Considering everything she had been going through, she was only trying to make the best of a difficult situation, which he should have taken into consideration. Instead, he ends up making her feel worse than she already did.
I thought the Fitzgerald sisters were too hard on Carolina when they discover her relationship to them. It wasn't her fault her father had an affair. They grew up with all the benefits of being Fitzgerald's, while Carolina and her mother struggled to get by. They do make up for it when a hurricane comes to town, offering Carolina and her mother a safe place to stay, despite the awkwardness between the four women.
I would have enjoyed the book more if I had liked the characters more than I did. Still, I enjoyed the concept of the story and how it played out.

Book Info:

Publication: March 1, 2018 | Harlequin Superromance | Fitzgerald House #6
When Carolina Castillo's once vivacious mother becomes ill, she gives up her singing dreams and comes home to Savannah. She'd do anything for her Mam‡, even work at Fitzgerald House for the family she should have been part of. She'd even steal.
Carolina's decisions make perfect sense until she comes up against the immovable rock that is gorgeous FBI agent Sage Cornell. The honorable cop sees the world in black-and-white. He would never understand the difficult choices she's had to make, the secrets she's been forced to keep close. And he could never love a woman like her. Or could he?