To Catch an Earl by Kate Batemanis the second book in the Bow Street Bachelors series. The book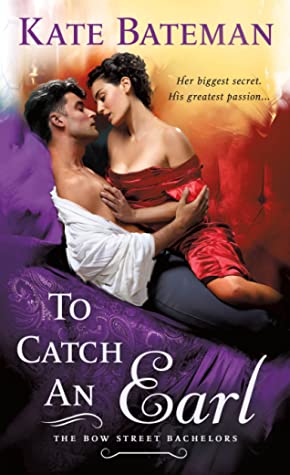 started out slow to me and was hard to get into it but once I made it through the first few chapters it picked up and became interesting. The storyline was interesting and unique; a second chance at love and a family of thieves hiding in plain sight of Society. I did enjoy the characters and the witty banter between Emmy and Alex. Their courtship was more of a cat and mouse chase, nothing like a standard courtship.
Emmy Danvers had loved Alex Harland, Earl of Melton, from a distance for years. One night before he left for war, she took a chance and stole a kiss at a masquerade. Her father was known as Nightjar, a jewel thief, who had sworn to return the crown jewels to France. After Emmy's father had passed, the Danvers' family was being blackmailed to steal the rest of the jewels and since her brother was injured it was left to her to become the Nightjar.
Alex Harland, the new Earl of Melton, was asked by Bow Street to take the case of the missing jewels and find Nightjar. For years he had remembered that kiss in the garden with the mysterious woman. When he realizes that Emmy is the woman from the garden and also the thief, he was disappointed, angry, and determined to catch her. He was torn between his feelings for her and his duty to catch her as the thief.
The next book in the series is for the Sebastien, Earl of Mowbray, who appeared in the book. It looks interesting and even though this book was not a favorite of mine by this author, I look forward to reading it.
Book Info:

Publication: June 30th 2020 | St. Martin's Press | Bow Street Bachelors #2
A case of secret identities finds reunited lovers on opposite sides of the law in this fun, flirty Regency romance.
There's only one case Bow Street agent Alex Harland, Earl of Melton, hasn't cracked: the identity of the mysterious woman who stole a kiss from him before he left for war. He's neither forgotten–nor forgiven–her for leaving him wanting. When he starts investigating the Nightjar, an elusive London jewel thief, he keeps running into the alluring Emmy Danvers, who stirs feelings he hasn't felt in years.
Even though Emmy's loved Alex for years, she can't risk revealing her heart, or her identity as the Nightjar. With Alex on her case, Emmy knows that her secrets are in danger of being discovered. Their cat and mouse game heats up with every interaction, but when Emmy's reputation–and life–is at risk, will Alex realize that some rules are made to be broken for love?