In Tomboy (The Hartigans #3) by Avery Flynn (February), when a friend asks Fallon Hartigan for a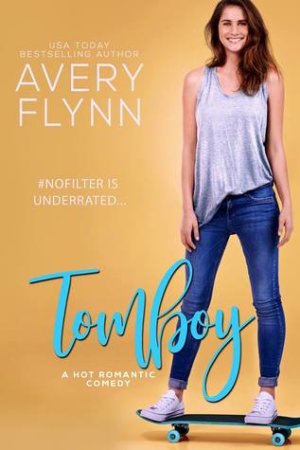 favor in taking care of Ice Knights defenseman Zach Blackburn while he's sick, she reluctantly agrees. However, Zach finds he needs Fallon a lot more than to help him get better. Being called Lady Luck isn't a title she wants, especially when she's nothing like the women Zach usually goes for. Yet, the more time Fallon spends with Zach, the more she finds herself falling for the most hated man in Harbor City. Will Zach be able to convince Fallon that they're good together or will something happen to tear their relationship apart?
"How do I know she sent you? You could be a stalker fan," he said, the words sounding more like a croak than a harsh accusation, since his belly picked that moment to deke and swerve.
"I'm Fallon Hartigan. We've met before." Fallon lifted her arms, the move showing off the shapeless blue scrubs she was wearing. "Anyway, do I look like I'm a puck bunny here to try to bang you into playing like you're worth the payout the Ice Knights gave you?"
What do readers get when Ms. Flynn pens a story with enthralling dialogue that is the perfect combination of teasing banter and intense moments, as the hero and heroine get to know each other and the heroine finds herself the target of trolls believing she's in serious need of a makeover; relatable and likeable main characters with interesting back stories; and secondary characters that are just as entertaining as the main ones? Well, readers get a wonderfully-crafted, fast-paced, captivating read; a read I was unable to put down for even a second. The way this story started grabbed my undivided attention and had me liking the heroine immediately, as she's one tough cookie and says whatever is on her mind. Really, there's no holding back and she's someone Zach needs in his life to show him that there are people he can trust.
"You're not my type," she said before putting a spoonful of soup in her mouth.
"What is your type?" And why did he care? Damned if he could answer either one.
"Has anyone ever told you you're annoying when you aren't throwing up?" she asked.
He shrugged and had his first spoonful of the soup she'd made from a can and some random veggies she'd found in his fridge. Damn, it was good. "Do you really think there's an insult that hasn't been lobbed my way?"
With the main characters, I absolutely loved this pair together. Fallon is everything Zach needs in his life. She's smart; sassy; a total tomboy and doesn't care about appearances (mostly); and I liked how determined she was to help Zach after she realizes he's not as bad as the things that are said about him. Does it really matter that he's the most hated person in Harbor City? I also liked the tight bonds the heroine shares with her friends and family and that they are there for her when she needs them most. While the hero, he's a lone wolf, which is understandable after what happened in his past that's made it hard for him to trust people. He's also confident, resilient and I liked how he begins to let down his guard and get to know his teammates. Yet, what I liked most of all about the hero was his determination to win Fallon over, especially since she doesn't make things easy for him when everyone thinks she's the reason things are starting to go right for him when it comes to his career.
"I was just acting like your Lady Luck so you could give yourself permission to love the game again and play it like you know you can."
He lifted a pierced eyebrown. "Wrong again."
"I'm never wrong." Zach was looking at her as if he'd figured out how to make her come just by glancing her way. The expression on his should be illegal. It probably was.
"You are wrong."
Overall, Ms. Flynn has delivered another fantastic read for this series in this book where the chemistry between this couple was strong and tangible; the romance was nicely-detailed, full of heat and passion and did justice to this couple's intense chemistry; and the ending had me loving the heroine's determination to show the hero that he's worth fighting for, even if he's not real appreciative of her efforts to begin with. Luckily, he realizes his relationship with Fallon is more important than pride, which ends up helping him to heal from his past when justice is finally served for past wrongs done to him. However, it was the epilogue that wrapped this story up perfectly, as Fallon is always going to be a woman that will keep Zach on his toes and I liked the surprise she had for him. I would recommend Tomboy by Avery Flynn, if you enjoy the enemy to lovers trope, the matchmaking trope or books by authors Kimberly Kincaid, Cindi Madsen, Sawyer Bennett and Lauren Layne.
Book Info:

Publication: February 18th, 2019 | Entangled Publishing | The Hartigans #3
How exactly has one good deed landed me in the penalty box?
Ice Knights defenseman Zach Blackburn has come down with the flu, and my BFF—his PR manager—begs me to put my nursing degree to use and get him back to health. Of course she would call in a favor for the most hated man in Harbor City.
But when he's finally on the mend and I'm sneaking out of his place, everything goes sideways. Paparazzi spot me and pictures, plus accusations that I slept with him, fly faster than a hockey puck.
At first, all of Harbor City wants my blood—or to give me a girlie-girl makeover. But then…the team finally wins a game. And now this fickle town wants me with the big jerk twenty-four seven.
Argh. I never slept with him the first time! But no one will listen. Then the grumpy bastard goes and promises to break his no-fan-appearances rule to help raise money for a free health clinic—but only if I'm rink-side at every game. That's not a deal I can turn down.
But when the team keeps winning, and I realize there's more to him than his bad reputation, suddenly remembering to keep my real hands off my fake date gets harder and harder to do.