Tracking You by Kelly Moran, the second book in the Redwood Ridge series, features Flynn O'Grady and Gabby Cosette. The two have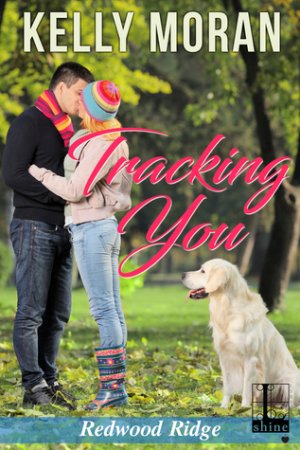 been best friends since they were children. Flynn, being deaf, has always had feelings for the girl who demanded her parents take her to sign language lessons so she could learn to communicate with him. Gabby, not knowing Flynn's true feelings, had just started to see him in the same light.
If you've read the first book in the series, you'll remember the Battleaxes, aka Flynn's mother and aunts, who played matchmaker between Flynn's brother, Cade, and Avery. Now they, along with Flynn and Gabby's co-worker, Brent, are at it again, trying to nudge Flynn and Gabby together. They even go as far as making Gabby work the kissing booth at the fair, hoping to spur Flynn into action.
Both Flynn and Gabby haven't had the best of luck with relationships. Women tend to be turned off from Flynn because he's deaf, while men see Gabby as the good girl/friend, often overlooking her for her more popular sister. They seem to be the only two who understand each other's struggles.
I loved Flynn and Gabby together. It was clear they genuinely cared about one another. Gabby was also signing for Flynn, making sure he never missed part of a conversation. Whenever Gabby was feeling down, Flynn went out of his way to try to make her feel better. It was sweet when Flynn drives Gabby around town, recounting all their interactions as children that led up to his feelings for her.
Flynn can speak, but because of children making fun of him as a child, he remained mainly mute, except with his dog and Gabby. He didn't even use his voice to communicate with his brothers. When he actually speaks to Avery's non-communicate autistic daughter, Hailey, it inspires her to try as well. I loved Flynn's interactions with his soon-to-be niece and how she seems to connect with him better than she does with anyone else.
The next book in the series is going to be Drake's story, and I'm looking forward to reading about the last O'Grady brother.
Tracking You is a sweet story filled with love, acceptance, and family. If you enjoy the best friends to lovers trope, this is one not to be missed.

Book Info:

Publication: May 23, 2017 | Lyrical Press | Redwood Ridge #2
Gabby Cosette has always been dubbed the good girl of quaint Redwood Ridge, Oregon, and being permanently put in the friend zone has left her dating life stagnant. With no prospects in sight, she clings to her friends and resolves to not let loneliness drag her under. So when the town Battleaxes set their matchmaking sights on her, she figures it can't hurt. Yet the guy they think is perfect for her just happens to be not only her boss at the veterinarian clinic, but her best friend. Sure, Flynn O'Grady is attractive and the nicest guy around, but going there with him would topple both of their carefully constructed worlds and there would be no going back. Even if he is starting to make her girly parts zing.
Having been born deaf, Flynn has already felt like an outsider most of his life. Aside from his brothers, Gabby is about the only person who's gone out of her way to treat him as more than a handicap. Which is exactly why he's banked his secret attraction for his sweet, beautiful vet tech. Except his meddling family is trying to play Cupid and ruin the best thing to ever happen to him. Without Gabby, his work as a veterinarian, never mind his personal life, wouldn't flow. Determined to ignore the antics, he's secure in the knowledge she's not interested in him romantically. But then a kiss changes everything . . . and he's wondering if taking the ultimate shot at love might be worth the risk.