Troy by Amy Andrews: One lousy night turning into a life time of craziness? Yeah right, except you know what they say about expecting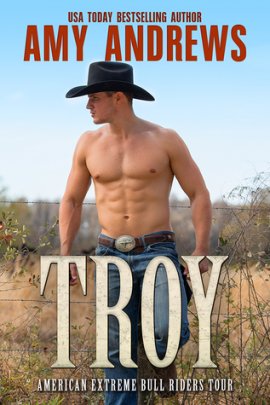 the least expected thing.
Joss Garrity knew what it was like to love and lose. Now she had enough other things to deal with. A teenage son, a "new" town, and trying to make sure she didn't mess anything up. The last thing she needed was a distraction.
Troy Jenson couldn't handle distractions, he was a bull rider. He was very good at compartmentalizing, but that was mainly because nothing ever meant enough to him to take up more of his brain. No one ever reached him like that.
One night and one chance meeting might not have done anything, but add in a couple more "chance" meetings and a lot of powerful drugs. Well it looks like Joss and Troy were going to have to figure out how to handle one another and see if one "experience" was going to be enough.
This is a short wonderfully descriptive novel by Ms. Andrews. She has managed to give her readers a delightful and tasteful panty melting heat while being romantic and managing to tell a story full of real life and love. This story will manage to melt your heart and make you believe in people again.

Book Info:

Publication: August 5th 2017 | Tule Pulblishing | American Extreme Bull Riders Tour #5
Cocky, young Aussie bull rider Troy Jensen has been busted down to the pro-circuit. He needs wins and points to get him back into the big league and a shot at being crowned champ but an injury forces him off the circuit and into the arms of the woman fate keeps putting in his path.
The first time local Doc Joss Garrity meets Troy, she's brandishing a lug wrench. The second time, he's dragging her delinquent teen son home. The third time, he's in her ER. How he ends up convalescing at her house she's not quite sure. But it does make it hard to ignore him and their simmering attraction.
As Troy gets to know Joss, he starts to see a life after bull riding for the first time. But can Joss risk her heart on another man who may not come home one day?