In Love Me Tomorrow (Put A Ring On It #3) by Maria Luis, Owen Harvey has a past he's trying to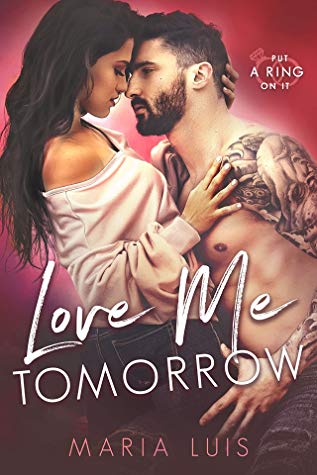 put behind him for good, a highly successful tattoo shop in New Orleans to fulfill his creative nature, but his future…that's something he thought would include gorgeous Savannah Rose. But evidently she had different thoughts on the matter. And she let Owen know in the most public way possible: on the reality dating show, Put A Ring On It. That humiliation is something he's tried to forget. So months later, when Savannah shows up at Inked on Bourbon with a business deal in mind, Owen knows he should show her the door. His traitorous heart–and other body parts–though aren't as sure. Their chemistry is unbelievable. And their past is complicated. But he'll give just about anything to see where the future could take them.
'She's either about to kick my ass or strip naked.
Not sure what it says about me that I'll gladly take either, so long as she's in my arms.'
Savannah has spent a lifetime so far kowtowing to her father's demands and working for the family's restaurant business, from the ground up. Now in management instead of bussing tables, she once again finds herself upholding the Rose family name–to keep their social standing in NOLA. But to have to appear on a reality dating show? Ugh. Especially when Savannah already has her heart set on someone. Not that she'd tell anyone, because she knows it won't work. She and Owen come from two different worlds. And there are other reasons they can't be together that she can't share with him. Savannah's return from filming the TV show, then checking in on her younger sister, has her learning of a big bombshell at home. One that could affect Owen's business. And as they try to sort it all out, she gets closer and more tangled up emotionally with the tattooed god without even realizing it–or what damage it could do to her heart.
'Owen Harvey is my kryptonite, my weakness–and, as of this moment, the biggest pain in my ass. And from the taunting gleam burning in his gaze, he knows it too.
Just. Friggin'. Fantastic.'
A sinfully addictive roller roaster ride of emotions, Love Me Tomorrow had all the plot twists, earth-shattering sexy times, and witty, seductive bantering this reader craves in contemporary romance.
"For every bit of beauty in the world, there's always the darkness that follows. You either cave to it, or you crush it to the ground. I've spent a lifetime struggling to come out on top."
I am so in love with, well, darn near everything about this book. This was my first time reading Maria Luis's work and I know it will not be the last–in fact, I'm going to grab up the first two books in this series as soon as I'm done writing this review! (lol) Luis had an eye for detail, whether it was setting up a scene, describing our hero or heroine's emotional state, or even when revealing an event from either of their childhoods. Those wonderful insights paired with our broody hero and take charge heroine worked exceedingly well.
There was an interesting backstory for Owen and Savannah that I won't get into here, but it's something we learned more about as we advanced in their story, present day, and which deeply affected everything they did. Owen had a rough go of things before he became a renowned tattoo artist in NOLA. And as I love a hero (or heroine) who has redeemed themselves, showing they have a kind heart while still keeping a bit of their swagger, Owen was a knockout hero for me. His personality was an awesome mix of sexy badass along with a shy, romantic hidden in his depths. And Savannah? I wasn't sure at first because of the way she handled her first day on the reality show…yikes. But she also redeemed herself and proved she was one tough woman with a steel backbone and a loving, compassionate nature.
Don't worry that this was a totally serious, dramatic story with no laughs or lighthearted moments. Because not only were the scenes between Owen and the crew at Inked on Bourbon a riot, but Savannah, Owen, and her rescue cat Pablo had me in absolute stitches every time Luis had them in a scene together. I'm not kidding. Between Pablo's hijinx and Owen and Savannah's paddle boarding excursion–you'll be giggling uncontrollably and loving every moment of it!
Love Me Tomorrow had a tortured hero with something to prove, as well as a feisty heroine trapped by family obligations–which made it a recipe for angst, self-realization, and a love that was all-encompassing. Highly recommended.
Book Info:

Publication: Published September 24th 2019 | by Alkmini Books, LLC | Put A Ring On It #3
They call her America's Sweetheart.
And me? I'm the so-called "inked god" she dumped on TV.
I've tried to forget her. I've tried to move on.
Until I discover that her family is opening a new restaurant next to my tattoo parlor.
If I were a gentleman, I'd offer my congratulations and go my own way.
If I were a gentleman, I'd let her be . . . but I'm not.
Savannah Rose may claim I'm nothing more than a friend, but that slight hitch in her breath whenever I get too close says that America's sweetheart is nothing but a liar.
All it takes is one scorching kiss, and I vow in her ear: "You're going to beg. Beg me to touch you, beg me to give you more, and if you're real good, maybe I'll do it all over again before you have to beg for that too."
I'm no gentleman.
But Savannah Rose? She's no one's sweetheart but mine.
LOVE ME TOMORROW is a steamy slow burn romance with a splash of the forbidden. It's the third and final book in the highly anticipated series, Put A Ring On It, and can be read as a standalone.