Trying It All by Christi Barth: Ever since the horrific accident from his youth, Riley has refused to leave anything to chance. He perfectly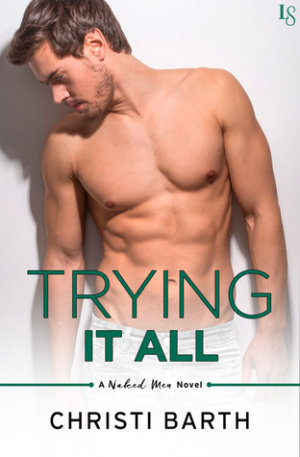 controls his life and minimizes any chance of danger. If there's any type of safety course, app, or tool available, Riley has taken it or bought it. Even his job, working traffic accidents, is to help control damage on the roadways.
Summer is Riley's exact opposite. In a similar tragedy in her college years, she chooses to live life as free as possible, because, as she knows, tomorrow could so easily never come. Heaven knows she and Riley never get along, and a relationship would obviously never work between them.
Except, when tension turns out to be passion, these two can't stay away from one another. Annoyances become cute quirks, and both are able to teach the other something new about life. But when their view towards future planning becomes a barrier in ever having a strong relationship, it looks like Summer and Riley just weren't meant to be.
"Yeah. I want to know what you have on under there. More than that, I want to see it. Do you want to show me?
Summer blinked once, twice. Then she rose to her feet. "What I want is to go skinny-dipping."
I thought I would hate these characters, quite honestly. They sounded annoying and neurotic, but I absolutely loved them and they were just perfect together. Riley is unexpectedly very attractive. Definitely an alpha type of a guy, and he gave the order and safety that Summer had been missing and wanting without even knowing she was.
And Summer, too – although Riley was my favorite of the story – was a joy to read with her mixture of vulnerability and strength. I love how wild she drove Riley because she just refused to be anything but herself.
They had no idea just how much they actually needed one another, and I certainly discovered just how much I love this couple. For those who want a hate to love romance, I recommend Trying it All by Christi Barth. It is the fourth in the Naked Men series, all of which I highly recommend, and although it can be read as standalone, with this series it is best to start at the beginning to get the full background and friendships.

Book Info:

Publication: May 16, 2017 | Loveswept | Naked Men #4
Order. Attention to detail. Never leaving anything to chance. These are the qualities that make Riley Ness such a terrific federal agent . . . and a pain in the ass to everyone else. The only time Riley lets loose is when he's hanging out with his closest pals. So when he's thrown together with gorgeous, flighty Summer Sheridan, Riley's brain tells him she's a ticking time bomb—but his body doesn't want to play by the rules.
Riley has to be the most irritating man Summer has ever met. The brooding hunk thinks he needs to teach her a few lessons about real life, while she'd rather show him how to enjoy it. But her BFF's all but engaged to Riley's best friend, and besides, their intense physical chemistry is all too real. Summer just needs Riley to try to meet her halfway and take a chance with the one thing that matters: his heart