In The Darkest Corner (Gravediggers #1) by Liliana Hart, It's a strange thing to know the world thinks you're dead. That's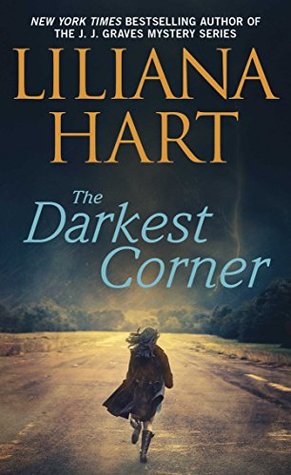 something Deacon Tucker must live with every day now that he's the leader of the Gravediggers. They're a team of men who are thought to be dead by their families and countrymen, but whose mission it is to save the world from terrorism. And while Deacon is used to covert missions, being former CIA, his undercover identity working at the local funeral home in Last Stop, Texas is getting complicated. He's tried keeping his distance from lovely mortician Tess Sherman for two years but he can't deny his feelings for much longer. And when she becomes wrapped up in his mission to stop terrorists, Deacon will have to come clean about who he really is and let her decide if she wants to be part of his dangerous world.
'She was imprinted on his soul, and though he hadn't claimed her, she was his.'
Ever since Deacon and the rest of his crew showed up at her funeral home, Tess has been convinced that there's something going on that they're not telling her. Not that she minds having five able bodied (read: totally hot!) men to help her, but she doesn't want anything nefarious happening on her watch. She should be careful what she asks for though, because when Tess does finally get some answers, she realizes the danger Deacon and his team are in. Which in turn means she will be, too, if she decides to pursue a relationship with the sexy team leader. But then again, Tess has been looking for something new, something exciting in her life. This might just be the chance to see where passion and her sense of adventure will take her.
"Your body makes me crazy. I've never been lust crazy before, but when I see you naked I pretty much want to throw you on the ground like a she-wolf and have my way with you."
Liliana Hart's new Gravediggers series started off with a bang here in The Darkest Corner. With plenty of action scenes, comical conversations, and intense attraction to go around, I didn't want to put this book down for a second.
"We no longer fight for our individual countries, but for one world. That allegiance to each other is important."
I'll be honest. I didn't know what to expect after reading the book synopsis for this one. And there was a little bit of a learning curve with this being a brand spanking new series–a new world, really–to understand. But once I figured out the logistics I couldn't get enough. To me, this was a character-driven story, and what a quirky but wonderfully entertaining group of people we got to meet. I think readers will enjoy not just our hero and heroine, Deacon and Tess, but the rest of the Gravediggers as well as the insanely funny residents of Last Stop, Texas.
Tess and Deacon seemed like an opposites attract couple at first but I liked that once we got to know both of them better, got the full details of their backstory, they had a lot in common. Tess was a really cool heroine who had one of the funniest inner monologues I've read in a while. She was a little shy, loved reading, but had a sassy side too, considering she was a fiery redhead. Tess's family life was a mess over the years thanks to her mother's issues but I didn't feel like she was a doormat, even though her mom took advantage of her kind nature. It felt like she just knew when to speak up about issues and when it would create more problems to do so. And I liked that she had that instinct about reading people and situations.
Deacon was kind of the ultimate hero. He had a strong moral compass but he'd had to do things in his government/intelligence career that straddled the line of right and wrong. That's why he made a great team leader for the Gravediggers, with that ability to make the tough decisions and do right by his team. I loved that Deacon was protective of Tess and he got such a kick out of her witty comebacks (and her nervous babbling). They made a seriously cute couple. Things started off slowly for them as far as a relationship went but the chemistry was there from day one. And I liked the progression they went through. Hart was able to make it seem natural, even with it happening at the same time as the tense, high stakes terrorism plot the Gravediggers were trying to unravel.
The Darkest Corner was a cool blend of entertaining antics and suspenseful moments, with a slightly morbid sense of humor thrown in for good measure. (Our heroine was a mortician, after all!) I had a blast getting to know this cast of characters and can't wait to see what exciting things Liliana Hart has in store for us in the next installment.

Book Info:

Publication: May 23rd 2017 | Pocket Books | Gravediggers #1
New York Times and USA TODAY bestselling author Liliana Hart's first book in her suspenseful Gravediggers series, featuring an elite group of mysterious men who might be dead to the world, but are also tasked with saving it—and no one can ever know.
The Gravediggers aren't exactly what they seem. They're the most elite of the world's fighting forces—and all they have in common is that they've been betrayed by the countries they've died for. Because they are dead. To their country, their military, and their families.
Sometimes the dead do rise…
Deacon Tucker is a dead man walking. A former black ops agent, he was disavowed and stripped of all honor before being recruited as a Gravedigger. But his honor and good name no longer matter, because no one knows he's alive, and he'll never get the recognition he deserves. His mission is simple: save the world or die trying. And for God's sake, don't ever fall in love. That's a rule punishable by death. The kind of death a man can't be brought back from.
Tess Sherman is the only mortician in Last Stop, Texas. She has no idea how Deacon Tucker ended up in her funeral home, but she'll eat her hat if he's only a funeral home assistant. Deacon is dangerous, deadly, and gorgeous. And she knows her attraction to him can only end in heartache.
Deacon is on a mission to stop the most fatal terror attack the world has ever known—what's known as The Day of Destiny—a terrorist's dream. But when he discovers Tess has skills he can use to stop them, he has to decide if he can trust her with secrets worth dying for. And, most important, he has to decide if he can trust her with his heart.