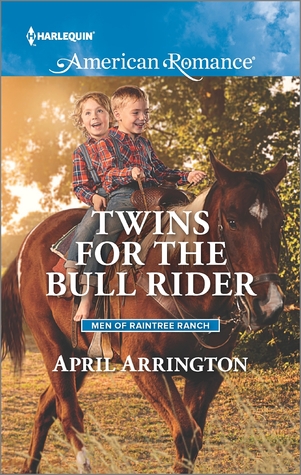 In Twins for the Bull Rider (Men of Raintree Ranch #1) by April Arrington, all Cissy Henley wants is to provide a good life for her nephews after they were placed in her care when her sister died. However, with no money and no job it isn't easy. That is until Dominic Slade comes to her rescue after her car breaks down, and she convinces him and his family that she isn't afraid of hard work, if they'd be willing to hire her.
Dominic grunted. He retrieved the flashlight from the ground, shoved it into her hand then banded his blunt fingers around her wrist. "What were you gonna do if this thing missed? Kick my kneecaps? You're too short to reach much else."
"Actually, I had something higher in mind," she smirked, spinning the flashlight with her fingers.
Dominic's luscious mouth twitched. He flattened it and rolled his eyes. "Right."
Bull Riding heroes make for such interesting reads, especially when they're torn between love, family and their career. But Ms. Arrington has produced a well-written, fast-paced read that entertained me from start to finish. The way this story started with the heroine endeavoring to do her best to care for her twin nephews; two wonderful kids that she's gained custody of since her sister died, made me determined to keep reading to discover whether she would succeed in giving them the sort of life she believes they deserve. The sort of life she and her sister didn't have growing up.
As for the dialogue, there was some playful dialogue between Cissy and Dominic that made me smile. Yet, the dialogue is also intense due to the main characters back stories, the heroine's independent nature that makes her stubborn towards the hero when it comes to accepting his help, and the pressure the heroine faces from the twin's father; a man that wishes to take them away from her because he doesn't believe she can be a good provider for his sons. However, Cissy is a fighter, and her dialogue as well as the emotions and reactions she conveys to the twin's father proves she deserves a chance at keeping the kids.
I really liked both the main characters as well as the secondary ones. The hero is confident and determined. At the beginning, Dominic doesn't have the best relationship with his brother, as his brother believes he's running away to avoid being hurt the way their mother hurt him when she left. Yet, I liked the fact that they grew closer as the story progressed. Because Dominic needed that close bond with his family, if he was to prove to the heroine that he could be the type of man she needs to provide the sort of life she wants to provide for her nephews.
While the heroine, she's strong, brave, independent, stubborn and tenacious. Although she doesn't have a job or a lot of money, she's determined to do her best for her nephews. Luckily, Dominic's persistence and kindness makes Cissy realize she can trust him, which he proves through everything he does for her including the way he cares for her nephews. Indeed, the moments when Dominic interacts with the twins were precious.
From the moment Dominic and Cissy meet they have amazing chemistry, which eventually spills over onto the pages in hot sex scenes. It takes a while for Cissy to give in to her feelings for Dominic, as she needs to make absolutely certain that he's the right man for her before giving in. As she doesn't want to have the kind of relationship her sister had with the twin's father; a relationship where she'd hardly sees her boyfriend because his profession takes him all over the country.
Overall, Ms. Arrington has delivered a really good book that I will definitely re-read. The way this story ended had me cheering for this couple, despite the fact that Dominic was running scared until he realized that Cissy and the twins were the best thing to come into his life and show him that love is worth fighting for. I would recommend Twins for the Bull Rider, if you enjoy the mysterious strangers trope, or a couple that aren't looking for a relationship but find happiness when they least expect it.
Book Info:

 May 1st, 2016 | HQN Books | Men of Raintree Ranch #1
A SPECIAL COWBOY
Cissy Henley is stranded in rural Georgia with her two orphaned nephews, no money and no job. When they're rescued by a white knight in a Stetson, Cissy knows their stay at Dominic Slade's family ranch is temporary…even if her growing feelings for the wandering cowboy aren't.
Raintree Ranch was supposed to be a pit stop before Dominic hit the road again. Instead, Cissy and her pint-size twin boys are tempting the champion bull rider to reconnect with his roots and his family. But can he give up the life he knows to be the loving husband and father Cissy deserves?