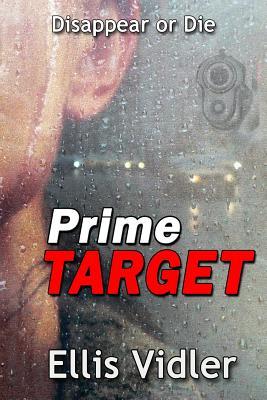 Prime Target by Ellis Vidler: Ellis Vidler consumed me from page one of Prime Target! Prime Target starts with a good mix of mystery, suspense and fear that only increases as the plot progresses.
When Madeline witnesses her husbands murder and not even the police can keep her safe, she escapes from big city to New York and ends up on an apple orchard in a small town. With a new identity and a new beginning, Madeline is cautiously living her life in anticipation of having to return for the trial of her husband's murderer. Little does Madeline know that her small town, and not even her property is safe from danger. Has she gone from one evil to the next? Charlie Dance is seemingly a recluse living on the mountain near her property. A cautious friendship is formed, even though they both surprisingly feel so much more. There is much more to Charlie than what meets the eye…as suspicious as he is about everything and everyone, he feels protective towards Madeline…and a lot more. Madeline likes who she sees and who she knows Charlie is under his layers of protection. And as the two are drawn together, danger is drawing close too. A danger that is putting them both in danger.
I loved the strong hero and heroine in Prime Target. Madeline is cautious and scared but oh so brave! She seems to have an innate ability to feel good or wary about certain people she comes into contact with, and this will definitely work in her favor. I liked how accepting she was of Charlie…she at times relates them to Beauty and the Beast which really says it all. Charlie is a man to love, scars and all! I liked getting to know him as the layer's that make up Charlie are peeled away. He is very protective of Madeline, often going way outside of his comfort zone to help her. Together I could feel the connection between them and I liked the slow build of trust, friendship and then more between them. They felt so right together, and I liked how they came together. It felt real and good. But I was as worried as they were about what would happen when/if the danger was stopped. Madeline misses her life in New York, and Charlie is not meant for New York. But are they meant for each other?
The suspenseful part of the plot is intricate but easy to follow and builds quickly very well. At times it was unexpected and at other times parts of it was heartbreaking. Real life issues are dealt with in Prime Target, and I liked how attention was brought to this issue in Prime Target.
There are good, bad, interesting, and I want to know more type secondary characters in Prime Target who blend in well with the plot. Some of them could take on a life of their own I felt like, and I hope to see more of them.
Very well written, I had a hard time putting Prime Target down, wondering what would happen next! I'd highly recommend Prime Target to any romantic suspense reader!
Book Info:

September 18th 2014 by Createspace
Suspense with a love story. Adult language and situations. After witnessing her husband's murder, Madeleine Schier becomes a killer's target. She flees her upscale New York life to become a name on a tombstone, relying on her wits and imagination to survive in a world where danger is everywhere. One wrong move could be her last. Should she trust the damaged recluse who's always near? Before long, her new life turns into her old nightmare when crimes that were once distant horrors on the nightly news turn up on her doorstep.