Tycoon Reunion by Candace Havens and Shannon Leigh is an entertaining novella about getting a second chance at true love. It is a short, quick read that is well-written and sweet.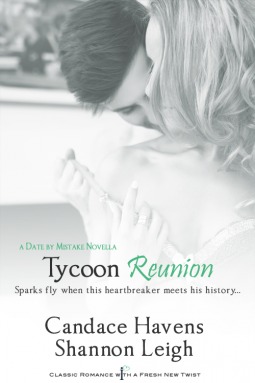 Annabelle Darlington and Jake Michaels were hopelessly in love eight years ago. The night of their high school graduation, Jake left Annabelle and Port Calypso for greener pastures. He has fulfilled his career aspirations and has become an extremely successful businessman with millions of dollars in the bank. Annabelle went to college and works for her hometown as an architect and community preservation liaison. She loves her job and is passionate about maintaining the area's culture through modernization.
Now Jake is back in Port Calypso, proposing a revamp of the town's wharf district, which is in desperate need of a facelift. Little does he know that in order to get his proposal approved, he has to go through Annabelle, in addition to the town council. Luckily, Annabelle is able to forgive, because hell hath no fury like a woman scorned.
Bailey Darlington, Annabelle's sister, is on a mission to get Jake and Annabelle back together. She knows they both are still in love with each other, and along with her future fiance, the local Congressman, secretly arranges for them to be in the same places at the same time. Bailey is a true romantic and a real hoot.
If you are in the mood for a cute romantic novella, give Tycoon Reunion a quick read.
Book Info:

Publication: February 10th 2014 by Entangled: Indulgence
Sparks fly when a project brings a heartbreaker back to town and into the path of the woman he left behind. He's determined to win her over in the boardroom … and the bedroom!