In Under Currents by Nora Roberts, Zane Bigelow's home life while growing up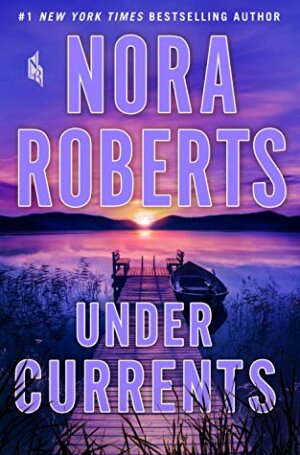 in the swanky part of his North Carolina hometown was nothing like it seemed on the surface. The fancy house, the expensive cars, the perfect doctor with his perfect children and housewife–it was all a lie. Because inside the house overlooking the picturesque lake was nothing but abuse that had Zane and his younger sister Britt fearing for their lives. It's when he stands up against his father that Zane's life, and that of his sister as well, changes completely. They learn who they can trust and eventually begin the arduous process of healing from their horrific childhood.
'He'd known his father could be mean, could be violent, that he could slide on the mask of the perfect husband, father, neighbor over what was under it all.
But he hadn't known, or hadn't accepted until that moment, his father was a monster.'
More than a decade later, Zane, now a successful lawyer, makes the decision to move back to his hometown. While he hasn't missed the bad memories it brings up, he misses his aunt Emily and the camaraderie that living in a small town means to him. Darby McCray is new to the area and trying to build a name for herself as a landscaper so she can settle down in Lakeside and grow her business. With a few things in her past she'd like to forget as well, she hits it off rather well with Zane. Their relationship morphs from friendship with a side of flirtation to an all out romance rather quickly as they find themselves battling their demons, side by side. And with such a promising future ahead of them, they'll do whatever it takes to win.
'A good heart, she thought, generous and open despite all he'd been through. Or maybe because of it. She wanted to tend that heart, to help the deep, underlying scars heal.'
An epic story as only Nora Roberts can tell it, Under Currents had everything from sweet romance to murder and several forms of abuse, but most of all, it showed us how the love of family and friends can transform our lives for the better.
'Maybe there were undercurrents and always would be, but they'd never drag him down again.'
[su_spoiler title="Trigger Warning"]Graphic violence and detailed scenes of physical abuse.[/su_spoiler]
You know when you pick up a Nora Roberts book that it will be solid. Period. But there are some of her characters, their situations, or the storyline itself that will truly resonate with me when I read it. Under Currents was such a novel. Roberts' storytelling here was on point and filled with such real issues, some admittedly disturbing, and honest, raw emotions that everything rang true. It might have been a bit lengthy, but I think the pacing was perfect and carried the story forward in a natural way.
I liked that Roberts started things off in the past where we got to see our main hero (there was more than one hero in my opinion) in his teens, unfortunately living in his abusive home. I think it gave a clear picture of what Zane endured, what built his character, who became central to his future, and why moving back to his hometown over a decade later as an adult was such a huge step for him. And I definitely loved the man Zane became. He was thoughtful, loyal, had a nice sense of humor, and fought to do the right thing. Even when it wasn't easy.
Our main heroine (I thought there was more than one heroine as well) Darby was pretty kickass. She'd been through her own troubles in the past and had come out the other side full of optimism and a can-do attitude. She had hidden depths that surprised me in a good way. And I loved that Darby didn't pull any punches–she laid it all out there and let people know where they stood with her and how she would and wouldn't be treated. Which floored Zane, his aunt and his uncle to no end. (And me!) Darby and Zane's romance was tender, passionate, and just felt right, even as it moved along at a pretty good clip.
At times dark and chilling with a twisting, suspenseful plotline, other times hopeful and filled with warmth, Under Currents captured my heart with its realistic characters and their long but triumphant journey.
Book Info:

Publication: July 9th 2019 | St. Martin's Press |
From the #1 New York Times bestselling author, a novel about the power of family to harm—and to heal.
Within the walls of a tasteful, perfectly kept house in North Carolina's Blue Ridge Mountains, young Zane Bigelow feels like a prisoner of war. Strangers—and even Zane's own aunt across the lake—see his parents as a successful surgeon and his stylish wife, making appearances at their children's ballet recitals and baseball games. Zane and his sister know the truth: There is something terribly wrong.
As his father's violent, controlling rages—and his mother's complicity—become more and more oppressive, Zane counts the years, months, days until he can escape. He looks out for little Britt, warning her Be smart. Be careful. In fear for his very life, he plays along with the insidious lie that everything is fine, while scribbling his real thoughts in a secret journal he must carefully hide away.
When one brutal, shattering night finally reveals cracks in the façade, Zane begins to understand that some people are willing to face the truth, even when it hurts. As he grows into manhood and builds a new kind of family, he will find that while the darkness of his past may always shadow him, it will also show him what is necessary for good to triumph—and give him strength to draw on when he once again must stand up and defend himself and the ones he loves…