Texas Trouble by Gerry Bartlett is the second book in her Lone Star series. I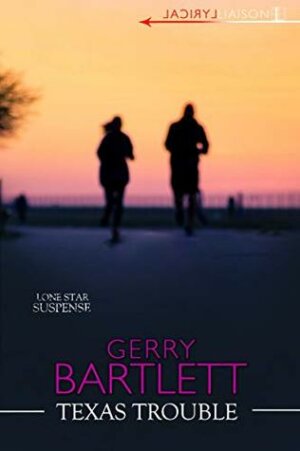 really liked the two main characters, Scarlett and Ethan. Their chemistry was hot and the development of their relationship was fun to read about.
Scarlett Hall moved from Boston to Texas with her best friend, Anna Delaney when the company they worked for was purchased by an Austin based software development company.
In the first book of this series, Texas Lightning, Scarlett was kidnapped by a psycho knife-wielding thug in an attempt to get to her friend Anna's new life-saving computer program. Scarlett escapes but not before the thug carves his initials in her butt check.
This story begins as Scarlett decides to have a tattoo done to cover the scars. Just as the tattoo artist starts the process Scarlett panics and runs outside having a flashback from the horrible day of her kidnapping. She meets Ethan Calhoun who is working on opening a bar next to the tattoo parlor. Zing! Instant attraction! Well that is, after Ethan helps her calm down after her panic attack. After talking for a bit Ethan offers Scarlett a job as manager of his bar and Scarlett decides to take him up on the offer.
It's a chance for a new start. She needs a new start. Even though the thug who kidnapped and cut her has been arrested and put in jail Scarlett still has fears and insecutities. She has moved into a more secure gated community and her home now even has a panic room. Things are going well until… the psycho thug, Leroy Simms escapes from jail. Will he hightail it out of Austin or stay and fulfill his threats to Scarlett to get her again?
Ethan's family trouble which is a subplot in this book got to be a little much but the suspense and danger around them when Scarlett's kidnapper escapes from prison is thrilling and full of surprises. I've read both books in this series and think romantic suspense readers would enjoy them.
Book Info:

Publication: June 4th 2019 | Lyrical Liaison | Lone Star #2
She was starting a new life in Texas—until old trouble turned up . . .
Scarlett Hall followed a job and a friend to Texas, but that cost her more than she'd bargained for. Now, wounded but determined to get past one of the worst days of her life, she decides she has to pull herself together. First step: cover up the physical scars left from her ordeal. That's easy. But the emotional scars are proving harder to handle . . .
Then she meets Ethan Calhoun. This bad boy seems ready to make his own changes and might be just what she needs to start a new chapter in her life. When he offers her a job as manager of his new bar, she decides to go for it. A change of pace and a hot guy who makes her forget her troubles while she's in his arms are a great cure. But it soon becomes clear that danger will be in Scarlett's life no matter how many changes she makes. As Scarlett comes face to face with her worst nightmare, it seems happiness was just an illusion. Maybe Texas is just too much trouble . .