In
Undressed by Avery Aster
, fashion designer Lex Easton has built her company from the ground up. The daughter of two prominent rock legends, she's worked hard to overcome her family legacy and stay out of the spotlight…letting her designs take center stage. She finds she will have to travel to an exotic island to speak with Prince Massimo Tittoni about her delayed fabric shipment. His company is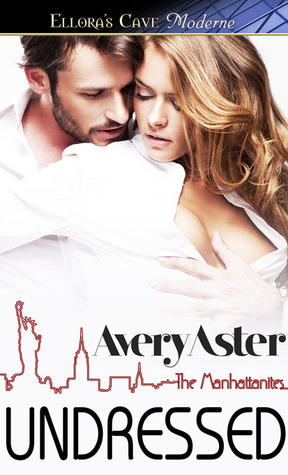 withholding the fabrics at the worst possible time, with fashion week just around the corner. To make matters worse, she also has a bit of a crush on him, as does every other female on the planet so it seems. Her arrival on the island is not greeted with much enthusiasm by the prince as he is on vacation and doesn't want to be bothered with business issues.
"She couldn't dream him up in her mind. But he'd come true. A gift."
Their instant attraction to one another is apparent but they can not seem to strike a deal regarding the fabric shipment. Lex offers the prince herself, for the week, as part of a deal she hopes he can't refuse. But from the first moment they step out into the spotlight together, they set the fashion world on fire with wild gossip of their supposed fling. Both Lex and Massimo must decide if their growing feelings are worth the media backlash and potential threat to their careers.
"Who does she think she is, showing up during my holiday demanding a meeting?"
Prince Massimo Tittoni  is enjoying his holiday on his family's island when fashion designer Lex Easton shows up uninvited demanding he release her fabric shipment to New York. He is instantly charmed by her sharp wit and surprised by how frequently and openly she speaks her mind. He knows it is a bad business decision to work with her company in their current financial state, but wants to cut a deal to somehow spend more time with her. He is not the type of man to think about feelings and serious relationships after his first love ended badly, but he can't help but wonder where things may lead with Lex. As they strike a deal with their collaboration on new designs, he worries how close he can let himself get to her without getting in too deep.Undressed is a wild, raunchy, romantic story set deep in the world of fashion.
Avery Aster has taken the mile-a-minute pace of Manhattan and paired it perfectly with the laid back traditions of Milan. Fireworks go off whenever Lex and Massimo are together as they are both very passionate people. They are also quite similar in that they both equally love their careers in fashion, neither considers themselves the type to settle down, and they both have past family issues they are dealing with. If you are looking for a new erotic romance series to read and you love fashion, look no further.
Book Info
Publisher:
 Ellora's Cave Publishing Inc. (February 15, 2013)
Book 1 in The Manhattanites series.
Milan's notorious playboy, Prince Tittoni, seems to have everything—Lamborghinis, exotic women, palaces throughout Europe and business success. Ramping up his fabric company to go global with a new apparel brand, he ruthlessly stops supplying fabrics to the American client who inspired the collection. But once they meet, what's he willing to give to get her in his bed?
Upper East Side designer Lex Easton has already endured her fair share of hard knocks. She'll be damned if she'll let an Italian stud muffin knock her down. So what if she named her favorite vibrator after him? With Fashion Week approaching, she'll do whatever it takes to secure the fabrics she needs to make her clothing line an international success—even sleep with her rival.
Lex's Louboutins are dug in deep to win this war. All's fair in love and fashion!
Inside Scoop: Though the hero and heroine remain monogamous, their Prada-wearing friends indulge in a ménage a trois and other fashionable sexual fun and games.
A Romantica® contemporary erotic romance from Ellora's Cave