Alright, it's time to get your Cute-O-Meter out! If you're going to read Urgent: One Nanny Required by Olivia Logan, you'll need it!
We start out by meeting Rania George. She owns a sweetshop (that's English for candy store) that has seen better days. She's just getting ready to close up shop when she sees a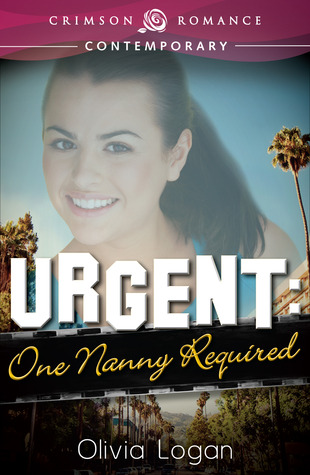 young boy, outside her store, by himself, in the dark. Who would let their son wander around outside all alone in the dark!? Rania was pretty sure that whoever it was, was a terrible parent! I really liked Rania. When she lets herself, she has this great sense of humor and is really quick with a comeback. You don't see that side of her too much, but Rania had a really crappy childhood, living with her mother who treated Rania like a hindrance. Since Rania has no knowledge of her father, she was pretty much stuck with her mom. This brings me to one of the things I did NOT like about Rania. I thought she really lacked ANY kind of self esteem. Maybe she was thinking it or maybe it was just my impression but I always felt like she didn't think she was "worth" much. And she definitely let the crap that her mother did weigh her down and inform her life decisions WAY too much. And I get that our childhood informs our adulthood in a lot of ways but I don't know if TOO much of that makes for a good story.
Right after we meet Rania and the young boy (Theo), we also meet Nick Trenton, Theo's dad. I really liked Nick. I thought he had a really great relationship with Theo, even if Nick isn't the world's most perfect dad. Nick works a lot and is away from home a lot. See, he's a big time Hollywood director who splits his time between LA and the UK. I thought Nick had a great backstory, with parents who were Hollywood types but who also gave Nick a great childhood and we also get a bit of information about Nick's first marriage. Another reason I liked Nick was because I pictured Nick maybe as a Brad Pitt circa 1998. And to my mind, there isn't much that is MORE yummy that Brad Pitt from that time frame! LOL!
I really liked Rania and Nick together. I felt like they both relaxed and let go when they were together. I also really liked Theo, Nick's son. Theo didn't hinder the momentum of the book at all. In fact, I think he helped move the plot along quite a bit. And I loved his relationship with Rania. When the three of them spend time together, you can definitely feel like they could be a family and you wonder why THEY don't see it too! My only real complaint about this book is that Rania and Nick are so thick headed about the other's feelings. Like, I couldn't believe that Rania couldn't tell how Nick felt about her. Or at least that he had stronger feelings that you would normally feel for your child's nanny. Sure, she has all of her issues because of her mom but she seemed totally clueless! And Nick! He seemed to be able to read her feelings a little better than she read his but the way he asks her to stay is by asking her to stay on as Theo's nanny? Gah! I wanted to strangle him!!! But even with all of that, I never rolled my eyes at these characters or thought they were unbelievable.
Overall, I would definitely recommend this book. Especially if you like or at least don't mind having a child in the mix. There is plenty of romance, a few laughs and no too many tears to be had in this fun new book by Olivia Logan!
Rating
Book Info: Publisher Crimson Romance April 15th 2013
Hollywood director Nick Trenton needs a nanny and fast. It certainly hasn't helped that his son has run off every one he's hired. With a big shoot coming up in LA, Nick's running out of options. Then along comes Rania George—sweetshop owner and one of the few people his son doesn't want to give the slip. No, she doesn't like Nick, but he can work around that. He loves his son and will do anything to get the lovely Miss George to say yes to his plan.
Rania is used to children hanging outside her sweetshop but seeing one alone on a dark night is a first. What sort of parent would let his child wander the streets at night?
Then she meets his Hollywood director father and assumes Nick's too self absorbed to notice his son is wandering the streets alone. She learned from an early age that anything Hollywood related was bad news. She has vowed to stay away from anything—and she means anything—Hollywood.
Not that it helps when Nick's cute-as-a-button son captures her heart nor when she's offered to babysit said son for a huge amount of money. Only catch is she has to fly to Hollywood and spend three weeks in the company of his devastatingly attractive father.
After all her experiences with Hollywood, is she willing to risk it?
Sensuality Level: Behind Closed Doors