In Veiled Enchantments (Veiled Magic #3) by Deborah Blake, Witch-cop Donata Santori has been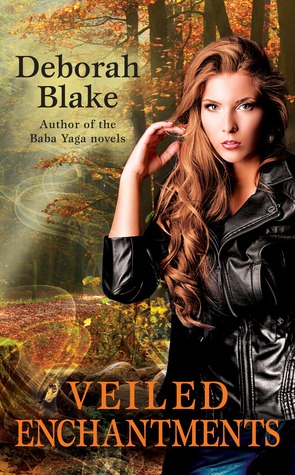 burying herself in her work so she doesn't have to keep going over every grisly detail of the past year or so in her life. Let's just say that she has bad luck when it comes to men. No good, very bad luck to be exact. So when her ex-boyfriend, Ulfhednar shapechanger Magnus Torvald, asks her to travel to his clan's home in backwoods Maine, well, Donata isn't sure it's a good idea. However, when he explains that his fellow trainees in the Ulf trials are being visited by ghosts of friends and family, causing distractions that have led to injuries, she has to admit that it does fall into her area of expertise. So off to the wilds of Maine it is.
'Right, Donata thought. Because trying to wrangle a bunch of ghosts in a town full of antagonistic Shapeshifters while attempting to track down their missing god sounds like a day at the beach. What was really sad was that, after the year she'd had, it probably would be.'
As Donata expected, she does not receive a warm welcome by the Ulfhednar in Grimle, Maine. Or even by members of Magnus's own family. But she's more worried about the job she needs to do, ridding the town of ghosts who may or may not be trying to thwart the Ulfhednar in finishing their trials and figuring out why Odin hasn't appeared when they've need his guidance. It doesn't take long, though, for Donata and Magnus to realize the sparks of attraction have never gone away between them as they fall into a comfortable pattern, spending what little time they can together while everything around them is in chaos. From magic spells that go wrong to possible duplicitous clan members, Donata is in for the journey of her life to help the Ulfhednar–and to get her own issues sorted out.
Magnus gazed at her with admiration. "You're a sneaky woman, Donata Santori. I like that about you."
She went back to painting, although she gave him a crooked grin while she did it. "So glad you approve."
Magic, action, ghosts and deception led the charge in Deborah Blake's Veiled Enchantments. Set in the wild woods of Maine, this story had everything a fantasy fan could want, including a sweet second chance romance.
'There was something very healing about being with someone you trusted absolutely–even if you couldn't share a future and you both knew it.'
While I'm a huge fan of Deborah Blake's work, this is the first book I've read in this particular series. And I was fine jumping in with book three–although I will likely be going back to read the other two as I enjoyed this installment so much. Blake did a great job including enough background to have this turn of events make sense. And once I got used to the "world" this series was set in then I was completely hooked. I mean, a Witch-cop and a clan of berserker shapechangers? How could it not be interesting, yeah? Plus it didn't hurt that it was set in my home-state of Maine, so I not only *got* the attitude of the locals but it made me laugh with Blake's jokes about their flannel-wearing ways and how, ahem, "rural" everything was. (lol)
Donata was a really cool heroine. She's evidently been through a lot of tough times in the past two books and this time around she was slowly finding her way through it all. She had a kind of snarky, sarcastic persona that you would rather expect from a cop but it was Donata's connection to everything in the natural and spectral worlds around her, being a Witch, that softened her edges a bit. I liked that she truly wanted to help Magnus and his clan find out why they were being targeted by ghosts. It interrupted their Ulf training/testing and even caused some of the candidates to be badly hurt, something that tore at Donata's heart.
Magnus himself was a fun hero. Sexy, affectionate, a teensy bit shady, but very protective of his family and clan, he was exactly what I think of when I hear bear shapeshifter. But the coolest part to me was watching him and the rest of the Ulf-in-training learning to control their inner berserker. Their whole history was pretty fascinating, actually, being tied to Norse mythology and with their god Odin even making an appearance (eventually).
I can always count on Deborah Blake for an exciting adventure filled with a bit of humor, some passionate moments, and her attention to detail that makes each book come alive. Definitely recommended.
Book Info:

Publication: Published March 20th 2018 | InterMix | Veiled Magic #3
In this exciting novel in the Veiled Magic series, Witch and police officer Donata Santori travels to Maine to help solve a deadly mystery, where her magical abilities are tested like never before.
Still reeling from her unwitting involvement in murder and subsequent break up with a half-Dragon art forger, Witch-cop Donata Santori is grateful for the distraction when her ex-lover requests her help. Not only are Magnus's beloved dead suddenly haunting the Ulfhednar shapechangers in his tiny rural hometown in Maine, their patron god Odin has turned his back on them, and the members of their once tight-knit enclave are at each other's throats. Literally.
Magnus is relying on Donata's experience in dealing with the gods, along with her magical ability to summon the dead, to help him unravel this mystery in time to save his clan. Donata only hopes to survive the ordeal so she can return home to the city and her quiet job at the precinct.
But first, she must discover who or what is behind the terrible attacks on the Ulfhednar. And the clock is ticking, in more ways than one…