Waiting on a Cowboy (McGrath #1) by Jennifer Ryan: Wow! Just Wow! Hold on to your hats as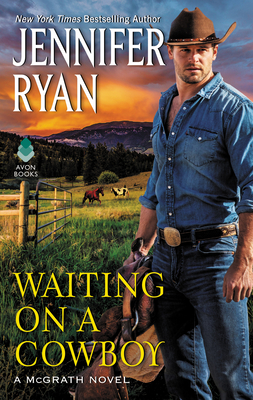 you are about to start on a thrill ride to beat all thrill rides when you read this story.
Liz Scott has loved Tate McGrath since they were little kids. In kindergarten she told him that she was going to marry him. They are best friends for life. But that isn't enough for Liz anymore. Yes, she still wants to be friends with Tate but she has decided it's time to find someone who falls "in love" with her and she with him. That's why she started dating Clint Mayhew. Clint was so sweet and doting until the night in the bar when Tate confronted her and asked her why she hadn't replied to his texts and calls. Somehow that threw Clint into possessive mode and things went downhill from there: he started ordering her around and he hurt her when he grabbed her. He just wouldn't accept that she was friends with Tate. Time to call it quits with Clint. But Clint wasn't letting her go and kept texting her and leaving her voicemail messages which started to feel threatening. She told him she didn't want anything to do with him and never wanted to see him again. That didn't stop him and he started stalking her. The situation greatly escalated…
Tate McGrath knows he cares for Liz Scott. They'd been best friends since childhood. Liz loves him. He knows that. It took the crazy situation going on now with Clint stalking Liz to finally wake up and realize he loves Liz. As in"fall in love" loves Liz. When her ex-boyfriend started stalking Liz Tate knew he had to do all he could to keep her safe.He couldn't lose her now. Neither he nor Liz guessed how dangerous Clint could be.
Waiting on a Cowboy by Jennifer Ryan is the first book in her McGrath series. First off, when I read the blurb for this book I never expected the story to be as suspenseful as it is. This story is definitely fingernail-biting, edge-of-your-set reading. I could not put this book down. I NEEDED to know what was going to happen next.
The plot is complex yet allows the reader to follow along easily. Ms. Ryan's characters are very realistic and their personalities just about explode off the pages. I loved this story! I'm sure anyone who picks up this book will enjoy it.
The next book in the series is Tate's brother Declan's story in Love of a Cowboy due to release on March 30. 2021.
Book Info:

Publication: August 18th 2020 | Avon | McGrath #1
Meet New York Times bestselling author Jennifer Ryan's McGraths: a family as untamed as the land they call home.
Tate McGrath just didn't get it. Why was Liz Scott, his best friend—and the person he relied on and trusted most—suddenly avoiding him! When he finally tracks her down, he finds her with a man he knows nothing about and she's been dating for weeks. Suddenly, he can't make himself ignore her tempting curves and deep green eyes, and all he wants to do is keep her all to himself. What was going on? Could he possibly be…jealous?
Liz had made the decision: stop carrying a torch for Tate and find a guy who wants to be her everything. Tate had always seen her as honest, dependable, smart, kind…Best friend, not girlfriend! And she needed to give up the dream of marrying the man she'd loved since preschool and move on.
But when Liz's boyfriend turns dangerous, Tate steps up to help and soon realizes he's the cowboy hero she's been waiting for him to be all along.