In Watched From a Distance (Love Under Fire #3) by Allison B. Hanson, Lena Scott has no choice but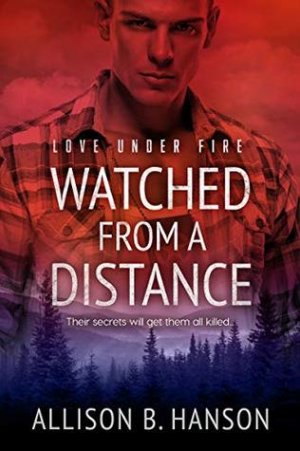 to follow the directions of a bad man, not if she wants to keep her daughter safe. However, when she's assigned to seduce and kidnap US Marshal Dane Ryan, she knows she's gone one step too far and may not be able to unwind herself from the trouble she's found herself in. Forced to work with Dane to find someone, she understands why he must hate her. Yet, when he discovers the truth of her situation, will he be able to help her or will he be another man that disappoints her?
It took a full minute, but eventually she nodded and looked up at him. 'Right now, I don't have many options. At least you're one of the good guys. So, I'll trust you." He wished her trust were based on something more than a lack of options, but he'd take it for now. After the way he'd treated her, he was surprised she trusted him at all. "I'm sorry," she whispered again.
He let out a sigh before saying the one thing he never thought he'd say to this woman. "I understand. I don't blame you."
Having absolutely loved the first two books of this series, I have been looking forward to this third book of Ms. Hanson's Love Under Fire series, and I've to say that this story does not disappoint. The way this story started drew me in immediately, as it's so hard for the hero to have walked away from his old life and I couldn't help but sympathize with his situation. How could he not want to catch a glimpse of his old life? However, it was from the moment the hero and heroine come face-to-face for the first time where this story really takes off and gets very interesting, as the heroine is in a tough situation and doesn't have a choice in what she does to the hero. Will the hero understand why she's helping the bad guys once he discovers the truth about why she has to help them? Will the hero and heroine be able to trust each other, especially after what happens between them when they first meet?
As for the dialogue, it was compelling and intense due to the main characters back stories that show there's nothing a parent won't do for their child, and everything this couple go through on their journey to happy ever after. Will they be able to come up with a plan that will give them an advantage over the bad guys? Will any plans they make be successful, especially when they have so much to lose if something goes wrong? Moreover, the heroine is resilient, courageous, driven in getting herself out of the situation she's found herself in no matter what she has to do and I liked that she put her trust in the hero because he is one of the good guys and it's palpable she's never going to be free from the bad guys if she doesn't. However, my heart was breaking because of why she's in the situation she's in. How could her ex do what he did? While the hero, he's a good guy that hasn't had the easiest of times because of what he had to do to keep his family safe, yet there's no doubt he did the right thing. Also, I liked the hero's confidence in his skills to help the heroine, the courage he possesses to take on the bad guys to protect those he loves and I liked how determined he was to win over the heroine, even after what Lena did.
"Make sure you take my number, too. In case you need anything," he said wanting at least that small tie to each other.
She gave him a warm smile. "Are you going to jump out of bed and come running to save the damsel in distress again?"
"Of course." He sat up a little straighter and winced at the pain. "Or, you know, I could send in the troops."
Overall, Ms. Hanson has delivered another fantastic read for this series where the chemistry between this couple was powerful because they start off as enemies, but end up becoming partners; the romance was nicely-detailed and had me loving these two together; the secondary characters entertained me just as much as the main ones; and the ending had me worried for the main characters because of what happens when they go up against the bad guys, but had me liking the hero's determination to go after what he wants once things are dealt with and what he wants is a life with Lena. However, it was the epilogue that wrapped this story up nicely because of the tight bond the hero shares with the heroine's daughter and how far the hero and heroine have come in their relationship. Really, they've helped each other heal from their pasts and learn to trust again. I would recommend Watched From a Distance by Allison B. Hanson, if you enjoy romantic suspense, the enemy to lovers trope or books by authors Laura Griffin, Tee O'Fallon, Tonya Burrows, Jenna Ryan and Cathy Skendrovich.
Book Info:

Publication: September 24th, 2018 | Entangled Publishing | Love Under Fire #3
Lena Scott is in a world of hurt. She's being forced to pay off her ex's debts to people who'd rather kill her than look at her…and are making demands she's desperate to avoid. But kidnapping and murder? Hell, no. When the threats turn deadly, Lena refuses to be a pawn any longer.
Five years ago, U.S. Marshal Dane Ryan left his old life and went into witness protection alone to keep his family safe. Working for Task Force Phoenix under a new identity, it's his job to protect others from those who'd harm them.
When the beautiful and mysterious Lena lures him into danger, he suddenly doesn't know who to trust. She has her own agenda, and they both have big secrets, but for either to survive, they'll need to work together to defeat their mutual enemy. Falling in love will only mean more to lose…