In Wedding Date for Hire by Jennifer Shirk, Maddie McCarthy can't believe the news, of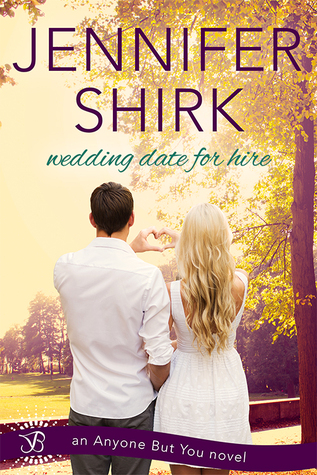 the person chosen to be the best man at her sister's wedding. The fact that she'll have to partner him as the maid-of-honor, and pretend to be happy with the couple's choice is even worse. Yet, it's not the only reason that finally makes Maddie desperate enough to hire a date, for the very important event.
Veronica's eyes widened. "Aunt Kathy, women in our family have to think ahead, what with the curse and all." She glanced at Maddie, then covered her mouth with her hand. "Oops," she said, not looking the least bit contrite. "But at least one of your daughters seems to have broken the curse. Although I suppose anything can happen between now and the wedding."
Sometimes, Trent Montgomery wishes he was able to say no to a certain relative of his.
Because what she's asking of him this time, is way too high a price to pay when it comes to his mental well-being. However, the moment he comes face-to-face with the blonde beauty wanting to hire him as an escort — even if it is for an occasion he detests — he's all in.
What a sweet and entertaining tale – a stand-alone addition to the Anyone but You series – this was, comprising the fake-relationship trope. Maddie's need to hire a date sets the fast pace of this story, and I loved how in the opening chapter, someone tells Maddie something she doesn't want to hear. It was definitely not a way to cheer a woman up, when she was already down on her luck.
"You, how you say, have a good baby-making hips, yes?" the seamstress said, bobbing her head up and down.
Maddie held in a sigh. Lovely. Now she wasn't going to be able to eat until after the wedding day on top of everything else.
As for the dialogue, there was some cynicism from both in regards to relationships, due to their back stories. Yet, there was also banter that never failed to amuse me. Maddie is her own her worst enemy when it comes to relationships, and that comes through loud and clear. Not right away, but as the story progresses. At first, I was unsure whether the heroine was going to go through with hiring Trent, not with their past history. But the dirty tactic he used, to ensure she did hire him, was inspired. Just the kick-start their fake relationship needed. He seemed very convincing in making their deception seem like the real deal.
Maddie blinked "Friend? Who?" She glanced at Trent in horror. "No! Not at all. He's not a friend, he's—"
"Her boyfriend," Trent blurted. This was it. This was his one chance to seal the deal, and he was grabbing it. He then threw his arm around Maddie and pulled her into his chest.
I did enjoy both Maddie and Trent. She's benevolent and altruistic. Someone that would do anything for the people she loved, even if it meant, keeping the relationship charade going until absolutely necessary. When it seemed she wouldn't normally keep secrets from the one person she was closest to. While with Trent, he's cocky and not afraid to take advantage of a situation when necessary. It was the thing I liked most about him. Because in helping Maddie, he was proving to her just how much he'd changed?
Wedding Date for Hire by Jennifer Shirk was a good book with great secondary characters. Marie, Maddie's aunt, was a real hoot, especially when she offered advice to one of the main characters. I would recommend this story, if you're a fan of the fake relationship trope, or are looking to read a sweet contemporary romance.
Book Info:

Publication: October 12th, 2015 | Entangled Publishing (Bliss) | Anyone but You #2
Maddie McCarthy is single, between jobs, and (oh, the shame) lives with her mother. To make matters worse, she's the maid of honor for her sister's wedding, and desperately needs a date. Then she sees her salvation—Match Made Easy, a service for women in Maddie's exact position. If she can't find a boyfriend, she'll do the next best thing…
Hire one.
Trent Montgomery isn't actually part of Match Made Easy. He's just doing a favor for his cousin, but one look at the blonde who hired him, and he's totally hooked. Now Maddie thinks that the attraction sizzling between them is just "part of the package." And Trent is running out of time to prove to her that her date-for-hire might just be her happily-ever-after…