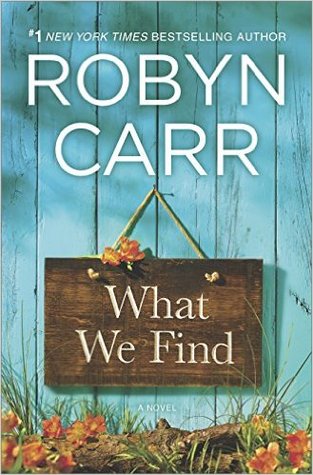 In What We Find (Sullivan's Crossing #1) by Robyn Carr, Neurosurgeon Maggie Sullivan may have nerves of steel in the operating room. but her personal life is a mess. After facing the end of her private practice, then a lawsuit from an emergency procedure, and her love life imploding, she travels to Sullivan's Crossing, Colorado, to regroup and visit her father, Sully. But a sudden heart attack puts Sully off his feet for a while and leaves Maggie to take care of the family general store and campground while she contemplates what is truly important in her life.
'Just when she started to feel she was with a man who could carry his weight, he confessed that he was nuts and had to work on his issues by trotting over the mountains. Boy, she could pick 'em. Whatever saint was in charge of her love life was terrible at it.'
Coming to Maggie's aid is Cal Jones, who is also at a crossroad of sorts in his life. Camping at Sullivan's Crossing has allowed him to begin the healing process after a tragic loss, although he knows he'll still need to hit the hiking trail at least for a few weeks to finish his soul searching. But Cal now has something, or rather someone, to give him hope of finding peace in his future: Maggie. What he feels for her is so strong and so pure, it takes his breath away. He only hopes that once she figures out what she's looking for in life it includes him.
'When a man gives all of himself to a woman who gives everything she has, the bond is so powerful it can be the ultimate fulfillment. And if lost, the ultimate destruction.'
With subtle humor and a small town cast full of welcoming characters, What We Find was a solid start to Robyn Carr's newest romantic series, Sullivan's Crossing.
I've enjoyed Robyn Carr's writing style over the years since first finding her Virgin River series and of course with the Thunder Point spinoff that followed. There's always something very relatable with the down-to-earth characters she creates and this book immediately began that way as well for me. I liked that it started off right in the thick of things, with Maggie in the midst of some very dramatic changes in her life. That allowed me to connect right away to the situation before the background was explained, delaying the 'getting to know you' phase of this first book in the series and instead, scattering it throughout the story as needed.
There was quite a bit of introspection and personal growth with all of the characters, which I tend to look for in Carr's books. I think she writes this element exceedingly well into her stories and loved how both Cal and Maggie changed by the end. They were at similar points in their lives, both having been through traumatic events, and were trying to find a way to start over. I thought Maggie and Cal were equally strong people, very driven in their careers, but their personalities were just different enough to complement one another. That connection also made it easier for them to heal and deal with their pasts.
Information about who book two will focus on hasn't been released at the time of this review, but I hope many of the townspeople we met will be making reappearances. Especially Maggie's dry-witted, caretaker father, Sully, and Tom, the local all-around-handyman and single father of four. They were an integral–and entertaining–part of Cal and Maggie's journey. Actually, I have to say that I personally think Tom deserves a chance at a HEA with a romance of his own. Just sayin'…
I hope romance fans will enjoy this well thought-out story of two people who did some serious soul searching as much as I did. I think just like Maggie and Cal, you'll laugh, cry, rage and fall a little bit in love during your time in Sullivan's Crossing.
Book Info:

 April 1st 2016 | by MIRA | Sullivan's Crossing #1
Join Robyn Carr, #1 New York Times bestselling author of the Virgin River and Thunder Point series, as she explores the healing powers of rural Colorado in a brand-new story of fresh starts, budding relationships and one woman's journey to finding the happiness she's long been missing
Between the urban bustle of Denver and the high-stress environment of a career in neurosurgery, Maggie Sullivan has hit a wall. When an emergency, high-risk procedure results in the death of a teenager, Maggie finds herself in the middle of a malpractice lawsuit—and experiencing levels of anxiety she's never faced before. It's in this desperate moment that Maggie's boyfriend decides he can't handle her emotional baggage, and she's left alone, exhausted and unsure of what her future holds. One thing is certain, though: she needs to slow down before she burns out completely, and the best place she can think to do that is Sullivan's Crossing.
Named for Maggie's great-grandfather, the land and charming general store at the crossroads of the Colorado and the Continental Divide trails have been passed down through the generations and now belong to Maggie's estranged father, Sully. Though raised by her mother and stepfather after her parents divorced, Maggie has always adored Sully—despite his hands-off approach to fatherhood. When she shows up unannounced in Sullivan's Crossing, he welcomes her with opens arms, and she relishes the opportunity to rebuild their relationship.
But when Sully has a sudden heart attack, Maggie's world is rocked once again. Consumed with his care, she's relieved to find that Cal Jones, a quiet and serious-looking camper, has been taking over many of Sully's responsibilities as he recuperates. Still, Maggie is suspicious of this mysterious man's eagerness to help—until she finds out the true reason for his deliberate isolation.
Though Cal and Maggie each struggle with loss and loneliness, the time they spend together gives Maggie hope for something brighter just on the horizon…if only they can learn to find peace and healing—and perhaps love—with each other.