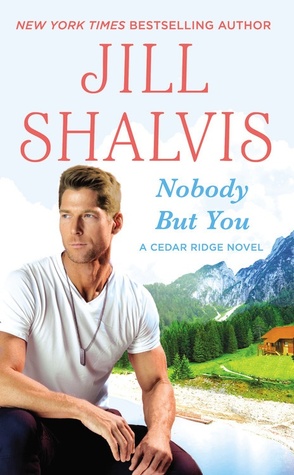 In Nobody But You by Jill Shalvis, Jacob Kincaid returns back to Cedar Ridge after a ten year absence. He wants to make amends to his family for being gone so long but doesn't know how to go about doing that. He rents a cabin across the lake from where the ski resort he owns with his siblings to figure it out, which is where he meets Sophie.
Sophie is coming off a bad divorce. The only thing she left the marriage with was her ex-husband's beloved boat. Since he took all her money, she's resorted to living on the boat and working odd jobs around town. Thinking the cabin is still for sale, she moors the boat at the cabin's dock and is surprised when Jacob confronts her. He keeps trying to get her to go away, but she keeps coming back. Over time they develop a friendship, branching out into a relationship, but both promise each other not to fall for one another. Jacob still needs to return to the military to finish out his last three months, and Sophie doesn't want to be hurt again the way Lucas hurt her.
Both Jacob and Sophie are likable characters. I felt bad for Jacob; not only was he dealing with the pain and guilt of losing his best friend in a roadside bombing, but he was also hurting from not being with his siblings, especially his twin, Hudson. Sophie didn't have it easy, either. Lucas kept harassing her to get the boat back, and kept getting her fired from places around town. Together, they learn to open up and trust one another.
I have to admit I was a little disappointed in Hudson in this book. If you've read My Kind of Wonderful, book #2 in the series, you know that Hudson spent a good deal of time trying to find Jacob to reconnect with him. One would think he'd be happy to see Jacob again; instead he's cold and standoffish towards his brother. He acted like Jacob leaving was all on Jacob's shoulders, which is a turn around from the last book in which he laid the blame on his himself. It didn't seem right, considering Hudson was the one who had told him if he left they weren't brothers anymore, which led to Jacob thinking he wouldn't be welcomed back. The turn around in Hudson's attitude from the last book threw me off a little.
I was confused about the turn around in Lucas's attitude as well. All through the book he's portrayed as a bad guy, having cheated on Sophie throughout their marriage, giving her absolutely nothing in the divorce except the boat, and then even trying to take that away from her as well as costing her jobs. Then all of a sudden he starts acting like he's concerned about her and announcing that really does care about her. It was odd, because there was nothing throughout the rest of the book that hinted that he had ever cared about her. The change in attitude was abrupt and felt out of place.
This can be read as a stand alone, but I recommend at least reading My Kind of Wonderful first to get more of a background on Hudson and Jacob's relationship and the fight that caused him to leave in the first place, as well as Hudson's efforts to locate him.
Despite my issues with Hudson and Lucas, I enjoyed Nobody But You. The characters are well-written, realistic, and engaging. You really can't go wrong with a Jill Shalvis book.
Book Info:

 March 29, 2016 | Grand Central Publishing | Cedar Ridge #3
After an overseas mission goes wrong, Army Special Forces officer Jacob Kincaid knows where he must go to make things right: back home to the tiny town of Cedar Ridge, Colorado. All he needs to scrub away his painful past is fresh mountain air, a lakeside cabin, and quiet solitude. But what he discovers is a gorgeous woman living on a boat at his dock.
Sophie Marren has nowhere else to go. She's broke, intermittently seasick, and fighting a serious attraction to the brooding, dishy, I'm-too-sexy-for-myself guy who's now claiming her dock. Something about Jacob's dark intensity makes her want to tease—and tempt—him beyond measure. Neither one wants to give any ground . . . until they realize the only true home they have is with each other.