In When No One Is Watching by Natlaie Charles, when Detective Gary Bartlett of the Boston PD is at a murder scene, he tolerates no outsider involvement with his crime scenes. When Mia Perez shows up at the site of a possible victim of the Valentine killer,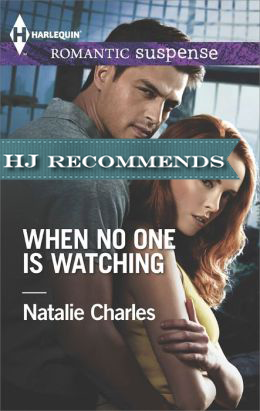 despite her claim of being a criminal profiler, Gary is leery of letting her in.
Soon he realizes the value of having Mia's input, and they are quickly working together to find a killer…before he strikes again. When twists and turns put the spotlight on Mia as a suspect, Gary knows in his gut she is innocent. Mia has some secrets though, hazy memories and a missing sister. Is she too close to the case? As the attraction between them grows and the conflict of personal vs professional sets in, Gary will have to make a decision. For him it's an easy one. He will risk it all for Mia. She needs him as much as he needs her. But will it be enough to find a killer before it is too late for them?
Natalie gives a great mix of suspense, danger, and romance in When No One Is Watching. The slow build up of chemistry between Gary and Mia works well with this plot, and their relationship in no way takes away from the mystery of When No One Is Watching. I really liked both Mia and Gary, they make a strong heroine and hero. Mia is brave, but at the same time she is scared. Scared of what's happened, and scared of what might happen. She is determined in her quest though, and finds an ally in former Marine Gary. Gary is protective and has his priorities. I loved that he believed in Mia and really listened to her. The development of their relationship is steady. Even if it is filled with turmoil and uncertainty at times, this makes it more realistic.
The mystery in When No One Is Watching evolves in such a way that Natalie kept me guessing right to the end. The plot will go in unexpected directions, leaving you on the edge of your seat and easily getting hooked in. Plot driven, When No One Is Watching is detailed, well researched, and Natalie's knowledge of her subject is clear.
There are some great secondary characters in When No One Is Watching who manage to mix things up very well, helping to take this romantic suspense to an unanticipated conclusion that surprised me, left me feeling good and hoping for a follow up!
I'd recommend When No One Is Watching to any romantic suspense reader!
Book Info:

Published September 2nd 2014 by Harlequin Romantic Suspense Series #1818
The red-hot passion between them isn't exactly an open-and-shut case
To find her missing sister and an attacker she can't remember, criminal profiler Mia Perez teams up with gorgeous Boston P.D. lieutenant Gray Bartlett. Their prime suspect: a psychotic serial killer. But when Mia's prints are found on the gun used in recent murders, Gray doesn't know what to think. Is the brainy beauty he's falling for being framed?
Mia finds herself incredibly attracted to the hero risking his life and career to protect her. Yet she keeps a deadly secret of her past from Gray. Now she needs more than his desire — she needs him to prove her innocence, find her sister…and keep her alive.