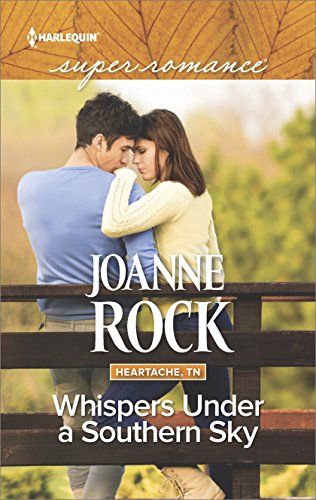 Whispers Under a Southern Sky by Joanne Rocky: Back home after a decade of no contact with her family, Amy just wants to quickly mend what ties she can, renovate her deceased father's old hunting cabin, and be there for the trail her sister's involved in, before getting out of town and never coming back. But before long, Amy is drawn into Heartache by an old flame who's the police chief and an old pain pertaining to her sister's attacker.
Police chief Sam wants nothing more than to get Jeremy Covington behind bars, believing him to be a serial stalker and assaulter who attacked his friend when they were teens. He just needs as many witnesses as possible, and it looks like Amy, his old love who he had to abandon to protect his friend, is one of them. Except, the flame between them only flares brighter, but how can he be with a woman who refuses to step forward. Sam sees it in black and white, everyone who can help, should.
With them at odds over the case, and Sam a surprise father from a past one night stand, how much they want each other might not mean a thing. Not when there's so much in their way.
"Or maybe you need fun in your life now more than ever." Her fingers walked along his shirt cuff.
The smallest, least sexual touch he could imagine. Yet his temperature spiked like someone had thrown gasoline on the fire in the hearth.
I liked all the parts to the story, like the investigation, returning home, and even the adorable baby, but the romance just didn't work for me. Yes, there was some conflict, but it wasn't very strong and it didn't exactly keep them apart. The most annoying aspect to me was that Amy decided to martyr herself so Sam could create a family with his one night stand, a woman he obviously in no way wanted. And, overall, I just didn't believe this relationship and, with Amy's past miscarriage, it almost felt she was more in it for the baby.
My favorite aspect was probably the investigation. It definitely took up a fair bit of the story, but I found it the most interesting part, and I was definitely wondering throughout if Sam would get his witnesses. Amy's actual reunions were the only real parts where I felt connected to her, but, sadly, they took up very little and were a little too easy.
Throughout the story I also went along with Bailey, a teen affected by Jeremy's son and whose mother was involved in the stalking, as she worked through her pains and even found new love with a real sweetheart. I was almost more interested in their romance, and I do wish I could've seen more of it. Overall, an intriguing story and for those who love their sheriff's.
Book Info:

September 1, 2016 | Harlequin | Heartache #4
Her past…or her future?
It's taken Amy Finley ten years, but she's finally ready to return to her hometown of Heartache, Tennessee, and face the past. She just never expected that would include reuniting with her high school sweetheart and now town sheriff, Sam Reyes. Or that Sam's latest case would lead right back to the darkest chapter in her life.
The attraction between Amy and Sam is definitely still there, not to mention that she's sure she could quickly grow to love his cute baby son. But can he forgive her for keeping her secrets? Can she forgive herself?