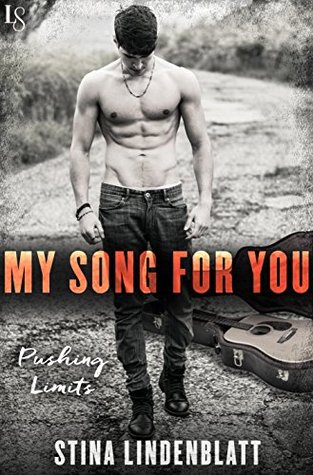 In My Song for You (Pushing Limits #2) by Stina Lindenblatt, for years Callie Talbert has kept her sister's secret. But the moment she comes face-to-face with Jared Leigh again, she knows things will never be the same. Not only will her life be changed if Jared learns the truth, but so will the life of the little boy she loves more than anything.
"Other than your father, does he have any males in his life? Any positive influences?"
A flash of pain crossed her face, but it was gone as quickly as it had come. "He's fine, Jared. And it's better this way. Better than constantly dealing with guys letting him down and eventually walking out of his life." The real reason she didn't date.
"And you think I'm going to let him down?"
Having absolutely loved the first book of this series, I couldn't wait to be able to read more about the men of the band Pushing Limits and I've got to say that this book does not disappoint. Indeed, just like the first book of Ms. Lindenblatt's Pushing Limits series, this is a friends to lovers story. Friends that haven't seen each other in a few years, and where the heroine is hiding a secret that if the hero learns the truth about could turn her life upside down.
Everything – the plot, the characters and the dialogue – made this story captivating, fast-paced and one I couldn't put down once I started reading. Callie and Jared have a complicated history. He used to be her sister's boyfriend, and yet, she was interested in him back then as well. How did she deal with her feelings when all he saw her as was a little sister? How was she supposed to deal with him now when she made a promise to her sister?
"Hey, I couldn't help that I didn't like the loud bang when they popped."
I snickered. "Is that why you always shrieked like a large hairy monster was after you?"
"Says the guy who freaked out when a caterpillar fell down the back of his T-Shirt."
The dialogue was compelling and well-written, and a wonderful blend of intense and teasing. The walks down memory lane made me smile, because it helped remind Callie of happier times when she hadn't lost those she loved most and hadn't altered the path she wanted to take for her life. However, the dialogue was also intense too due to the main characters back stories, the secret that Callie has been keeping being exposed and the betrayal one of the main characters suffers at the hands of someone they once cared about.
I absolutely loved both the main characters, and the secondary characters in Jared's bandmates definitely added a special extra something to a story that I couldn't get enough of. Mason was a hoot and made me laugh with his getting into trouble with the little boy for swearing. Then there's Nolan and Hailey who aren't afraid to give Jared and Callie some much needed advice because they believe they're good for each other.
Callie is strong, brave and has been through so much. Losing those she loved was hard, more so because she didn't have anyone to turn to through tough times. But she's done so well considering all that she's been through. Then again, she couldn't afford to grieve like she should have because she had a precious little boy to take care of; a little boy that is her whole world, and her last tie to her family. Also, I could understand why she was hesitant to get involved with Jared. First, she's keeping a huge secret from him and two, he's a musician. How would she cope with him being away and amongst his band's groupies?
While Jared, he's confident and I liked how determined he was to prove to Callie that he's the right man for her. They go through a lot together, and I could sympathize with him when he learned the truth of what she was hiding from him. Did he overreact to the news? Without a doubt, yes, and I couldn't help but feel sorry for the heroine in that moment. Since it could have meant her losing the one person in her life that she needed just as much as he needed her. However, I liked that Jared realized how unfair he was being. I also liked the close relationship he had with his family and the growing relationship he had with Callie's son. They would do anything for each other, and that's the sort of relationship he needed to prove to Callie they could have. Did he manage to convince her? Definitely, and I absolutely loved the way he showed her.
"I never knew you were so talented," I said, referring to his funny animal voices.
"I'm a man of many talents." He winked to me. For some reason, my face heated at this and he chuckled.
Callie and Jared make such a wonderful couple, and I was cheering for them with every chapter I read to achieve their happy ever after. Since no one deserved a happy ever after more than these two after everything they went through. Any time they converse, because it was filled with so much emotion, definitely ups the sexual tension until eventually their intense chemistry spills over onto the pages in hot sex scenes. Callie is a lucky woman, and it was palpable that she didn't have to be worried about Jared being enticed by any other female.
Overall, this was a wonderful second book in the Pushing Limits series for Ms. Lindenblatt, which has me looking forward to more for this series. The way this story ended was perfect and made me smile. Jared's song for Callie was absolutely beautiful, and certainly proves how much she means to him and I was glad that she finally realized that he loved her just as much as she loved him. I would highly recommend My Song for You by Stina Lindenblatt, especially if you enjoy the friends to lovers trope where the couple have a complicated history between them.
Book Info:

September 6th, 2016 | Loveswept | Pushing Limits #2
At twenty-one, Jared Leigh had been prepared to give up the life of a touring musician to be a father after getting his girlfriend pregnant. When she told him that she'd gotten an abortion, Jared was devastated. Now at least he has the groupies to keep him company—until a blast from the past rocks his world.
Callie Talbert hasn't seen her sister's ex since high school. But after Callie bumps into Jared while she's grocery shopping with four-year-old Logan, there's a spark that wasn't there before. Jared quickly realizes that her deaf "son" is the same age his own child would have been. When Jared demands to know more about Logan, Callie panics. There are things she just can't tell him. Besides, Jared's a bad-boy rocker, not a dependable father figure. He'll move on to his next gig soon enough . . . right?
Trouble is, Jared refuses to be pushed away, and the more quality time he spends with Logan, the more he's captivated by the woman Callie has become. When the truth is revealed, Jared only hopes that the three of them have what it takes to become a real family.